The NFT market is to exceed 200 billion dollars by 2030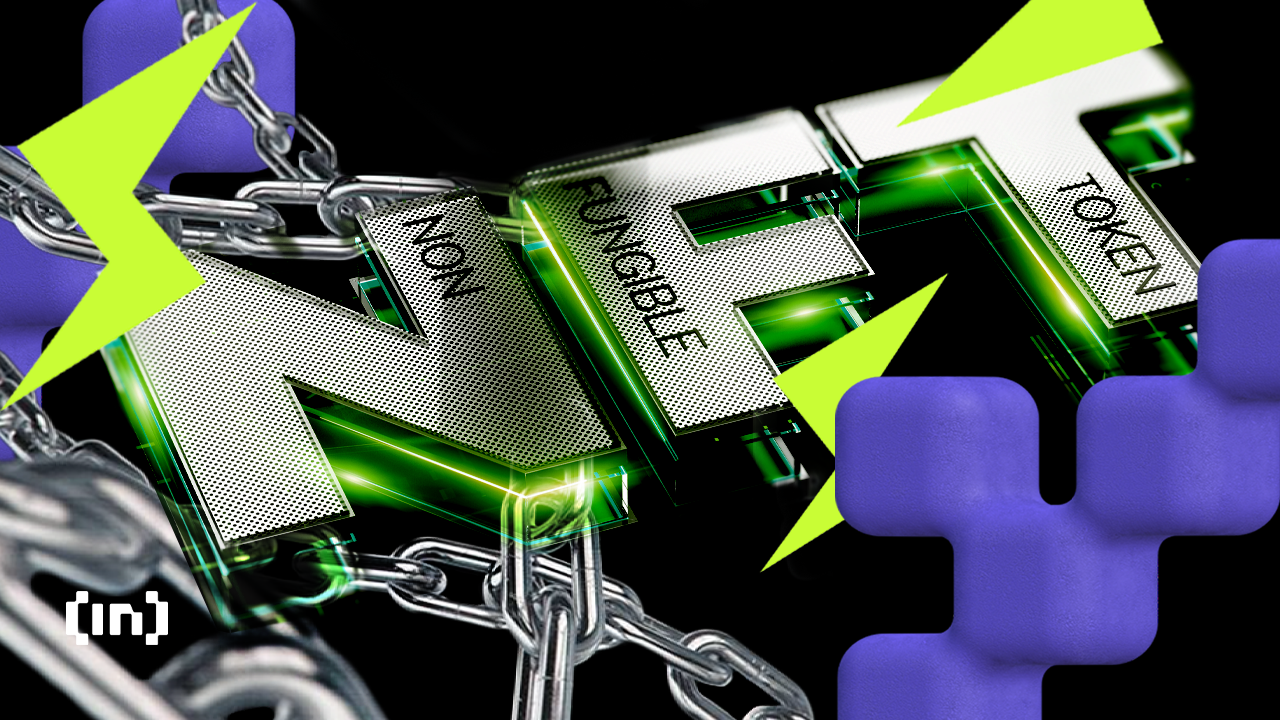 NFTs, or non-fungible tokens, have evolved from a niche market limited to cryptocurrency enthusiasts to a disruptive force predicted to redefine the global economy.
The NFT market is set to surpass $200 billion in the near future, changing how value and ownership is perceived in both the digital and physical worlds.
The unstoppable power of digital assets
By 2022, the NFT market was worth a staggering $20.44 billion. This represents over 72% of the global turnover of the digital asset market.
Forecasts predict an impressive annual growth rate of 34.2% from 2023 to 2030. Consequently, indicating that the increase in the value of digital assets has been phenomenal.
This trend is largely driven by the unique nature of NFTs that allow artists to retain ownership of their creations while profiting from their work. The newfound financial independence is drawing advertisers worldwide to the digital asset segment, driving growth.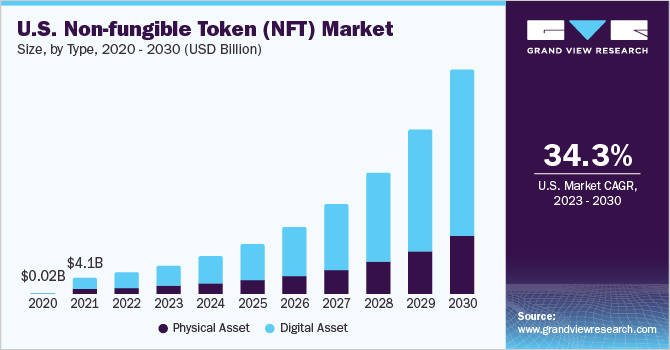 The concept of digital property is also gaining ground. Both physical and virtual properties are tokenized and traded on NFT platforms. This makes real estate a significant contributor to the digital asset segment.
Moreover, NFTs have emerged as a powerful tool to combat fraudulent transactions. They offer higher security and transparency previously unattainable in the digital landscape.
Each NFT is unique, indivisible and traceable back to the original creator. Consequently, establish the authenticity of the digital asset and offer an unprecedented level of security to buyers.
Revolutionary ownership of physical and digital collectibles
The physical asset segment, which includes tangible items such as houses, paintings and vehicles, is predicted to witness significant growth in the near future as well.
When tokenized into NFTs, these physical assets offer a foolproof way to authenticate the owner's identity and protect against fraudulent transactions. This innovative application of NFTs expands their reach, promising a revolution in the traditional models of ownership and value.
"Decentralized financial systems promise to dismantle some of the limitations found in TradFi, and in turn deliver significant improvements in terms of market efficiency and asset capabilities. DeFi minimizes or completely cuts out the intermediation systems found in TradFi to effectively decentralize the back-end of financial markets," Binance Research noted.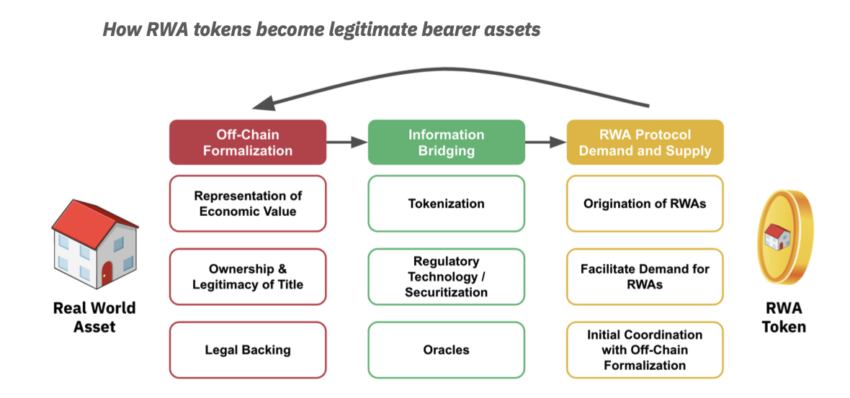 NFTs have also had a profound impact on the collectibles sector. With more than 53% of global NFT revenues in 2022, crypto collectibles minted on NFT marketplaces have become a sensation among various demographics.
The possibilities, be it sports memorabilia, unique game assets or exclusive artwork, seem endless.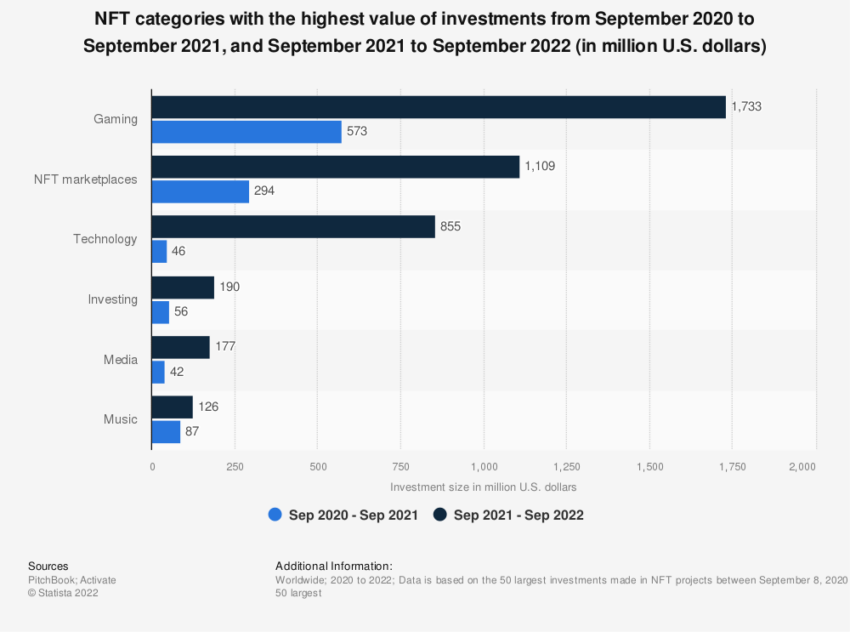 This trend is driven by the increased capacity of NFTs to foster a direct connection between creators and fans. It has enabled them to act, engage and build a community around their shared interests.
The level of personal involvement and ease of handling these digital assets are the main factors contributing to the explosive growth of the collectibles segment.
The growing influence of NFTs in the sports sector and beyond
NFTs have also made significant inroads into the sports sector. They are creating new avenues for athletes to increase brand visibility and increase fan engagement.
Up to five million sports fans are estimated to own or be gifted with an NFT, generating over $2 billion in transactions. This significant increase from the previous year indicates the huge potential of NFTs to drive fan engagement and monetization in the sports sector.
Even Nike has recognized this trend and recently partnered with Electronic Arts to bring NFTs into future EA Sports games. The goal is to provide "members and players with unique new opportunities for self-expression and creativity through sport and style."
"Nike's new partnership with EA Sports will look to build new immersive experiences and unlock entirely new levels of customization within the EA Sports ecosystem," the press release said.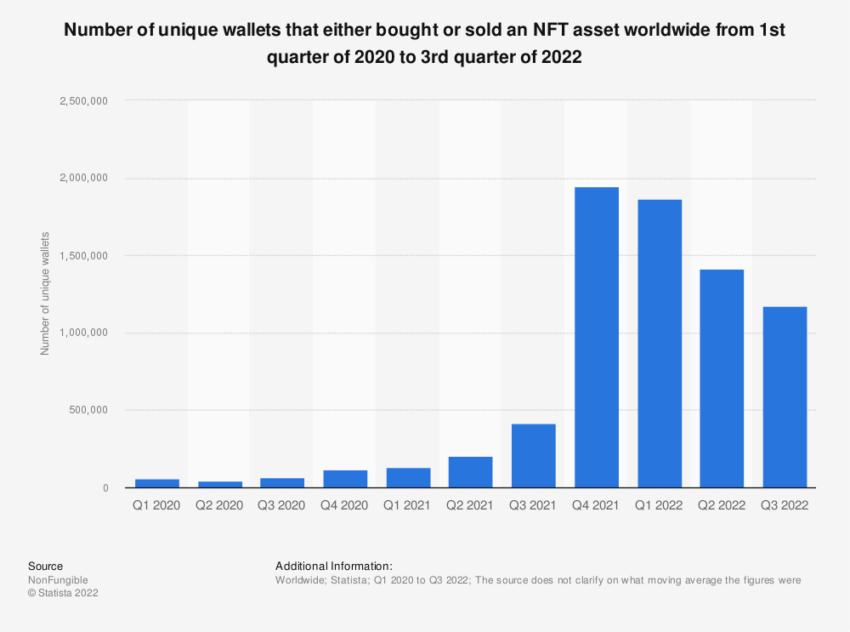 Yet the potential of NFTs extends beyond art and sport. Traditional sectors such as music, fashion and gaming are increasingly incorporating NFTs to offer their fan base unique experiences and exclusive digital content.
NFTs have also found their way into the commercial sector. They innovate supply chain management and logistics and promote new growth opportunities.
Yuri Musienko, business development manager at Merehead, believes that at the heart of supply chains, NFTs are the gatekeepers, verifying the authenticity of products and certifying their quality and provenance.
"For example, your customers should check the storage conditions and the source if you sell food. NFTs make it significantly easier thanks to special sensors that, via GPS, will track temperature, humidity, etc., and then record the data in the blockchain and connect it to the NFT of the product, confirms Musienko.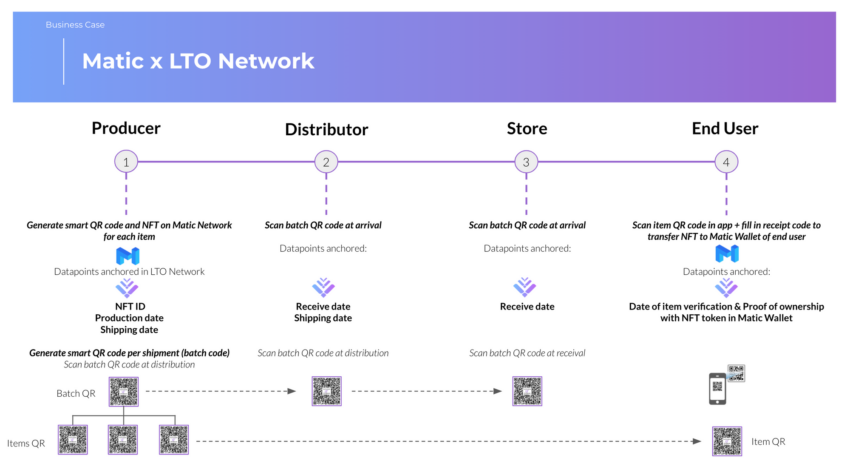 Moreover, the COVID-19 pandemic has acted as an unexpected catalyst for the NFT market. During the pandemic, the surge in funding for Art+Tech startups demonstrated the potential of NFTs to transform the art industry.
"The Covid-19 pandemic completely changed the picture for us – we saw a rapid increase in interest in virtual exhibitions. That situation forced us to pivot and we started helping galleries create virtual exhibitions online," said Vitomir Jevremovic, managing director of All.Art.
Similarly, Fuelarts reported that Art+Tech startups raised around $380 million since the start of 2020, indicating accelerated market growth during the pandemic.
"Total funding for 249 Art+Tech startups amounted to $3.48 billion in 2022, representing 70.8% of the total funding received by these startups since launch and 49.3% of the cumulative investments in Art+ Tech industry since 2000," noted Fuelarts.
A promising future for NFTs
As the world stands on the precipice of a digital revolution, the NFT market's projected growth to $200 billion marks a transformative shift.
However, a significant challenge remains: educating the general population about the concept, value and authenticity of NFTs.
A coordinated effort by NFT platforms, creators and established brands can help overcome this hurdle and usher in an era of NFTs in the mainstream economy. The future of NFTs is bright and promises to be a game-changer in the global financial landscape.
Disclaimer
In accordance with Trust Project guidelines, this feature article presents the opinions and perspectives of industry experts or individuals. BeInCrypto is dedicated to transparent reporting, but the views expressed in this article do not necessarily reflect the views of BeInCrypto or its employees. Readers should verify information independently and consult with a professional before making decisions based on this content.