Resurrection underway? Inside the Quest to Rebuild 0N1 Force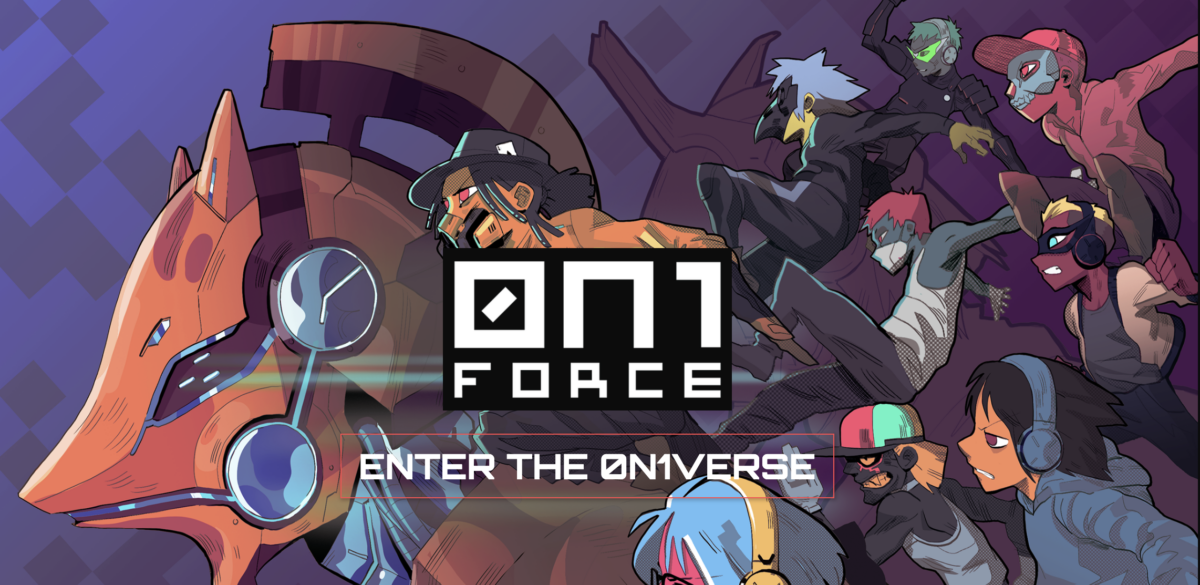 If you've been involved in the NFT sphere since 2021, you may remember the formidable presence 0N1 Force once commanded when it entered the scene in August. One of the first ever true anime PFPs, it had an average selling price of over 6 ETH shortly after launch, according to OpenSea. However, after a period of popularity, 0N1 Force experienced a gradual decline, with the project's minimum price below 0.30 ETH in the summer of 2022.
After emerging from the slump in 2022, 0N1 Force now embarks on a new chapter, bolstered by changes in ownership and leadership, a redefined roadmap and the steadfast loyalty of the local community. The floor recently increased 90 percent to 1.1 ETH from May 8 to May 15 and now maintains a 1.5 ETH floor at the time of writing.
The project is now aiming for a resurgence reminiscent of the remarkable comeback story of the Pudgy Penguins, with sales volumes exceeding $177 million.
A changing of the guard
The story of 0N1 Force's resurrection begins in February 2023, when the blockchain investment company Old fashioned research (OFR) acquired the project from its previous owners: JR, IMCMPLX, Strawberry, CryptoSpaces and LinkedEm. The new team boasts crypto veterans, including former Binance CFO Wei Zhou and Yield Guild COO Colin Goltra.
OFR was founded in late 2021 by Zhou and fellow ex-Binance CEO Wayne Fu. In accordance TechCrunch, it was valued at $100 million in 2022 and aims to lift and grow projects with long-term potential. According to the team, 0N1 Force was one such project. Few projects are as "groundbreaking and unique" as this, they wrote in one February 25 Twitter thread.
Partnership with Horizen Labs
On May 4th came more important news for the 0N1 Force community. The team announced a strategic collaboration with Horizen Labs Ventures (HLV). The company has a recognized track record, having partnered with prominent entities in the Web3 space, including Yuga Labs, ApeCoin DAO, The Sandbox, Jam City, Dust Protocol and Animoca Brands.
The collaboration aims to leverage HLV's experience in advising successful Web3 projects and 0N1 Force's capabilities in IP creation. The aim is to develop story-based solutions that meet the evolving needs of the digital landscape in both web2 and web3 environments.
In a May 15 Twitter Space0N1 Force CEO Henry Finn (AKA Starlordy) emphasized that the partnership underscores the commitment to growth and expansion of the Web3 offering to the community. Furthermore, Zhou – the strategic advisor to 0N1 Force's ownership group – emphasized: "This partnership intends to create a unique experience for the community by integrating HLV's knowledge and 0N1 Force's strengths."
While there are projects underway that have yet to be revealed, HLV stated in Twitter Space that one of them will be a reward system for holders. Both Finn and Decentralandwho is leading the Web3 strategy for HLV, hinted at an off-chain point stake system, as well as potential opportunities for holders to take advantage of 0N1 Force IP, both on-chain and off-chain.
"The internal points system is a way to reward both new and OG holders by giving them a way to not only be celebrated, but to find a way to redeem rewards both digital and physical," said Finn. "Scores will also reveal a leaderboard that will provide other benefits as well."
Franchise, R0N1N and World Club
0N1 Force's growth isn't slowing down anytime soon. In addition to the HLV partnership, Finn says this is just the beginning of a series of updates to come. 0N1 Force recently launched three application-based programs: Franchise, R0N1N and World Club.
The franchise model is intended to "foster and assist developers and creators in the ecosystem. The goal of the project is to equip community members who want to start their own businesses with the resources they need."
"We offer a wide range of support in terms of marketing, networking, distribution and financing," the 0N1 Force team said. "Our goal is to help franchisees succeed by providing the tools they need to thrive."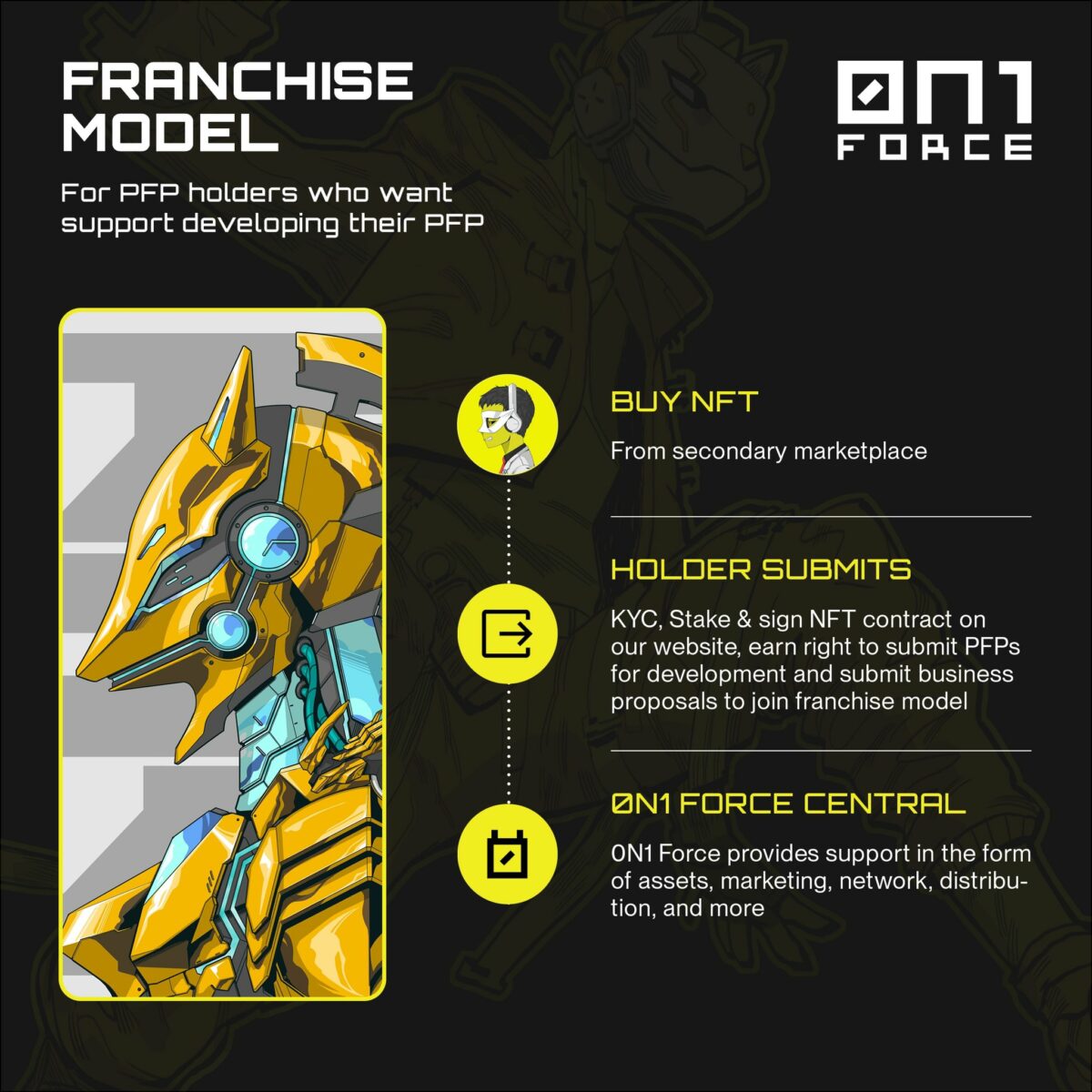 World Club serves as a global social network for Web3 creators, founders, operators and brands. The club will provide holders with opportunities to come together to organize events, dinners and gatherings. Three or more members can initiate a proposal to form a club within a club that matches their interests.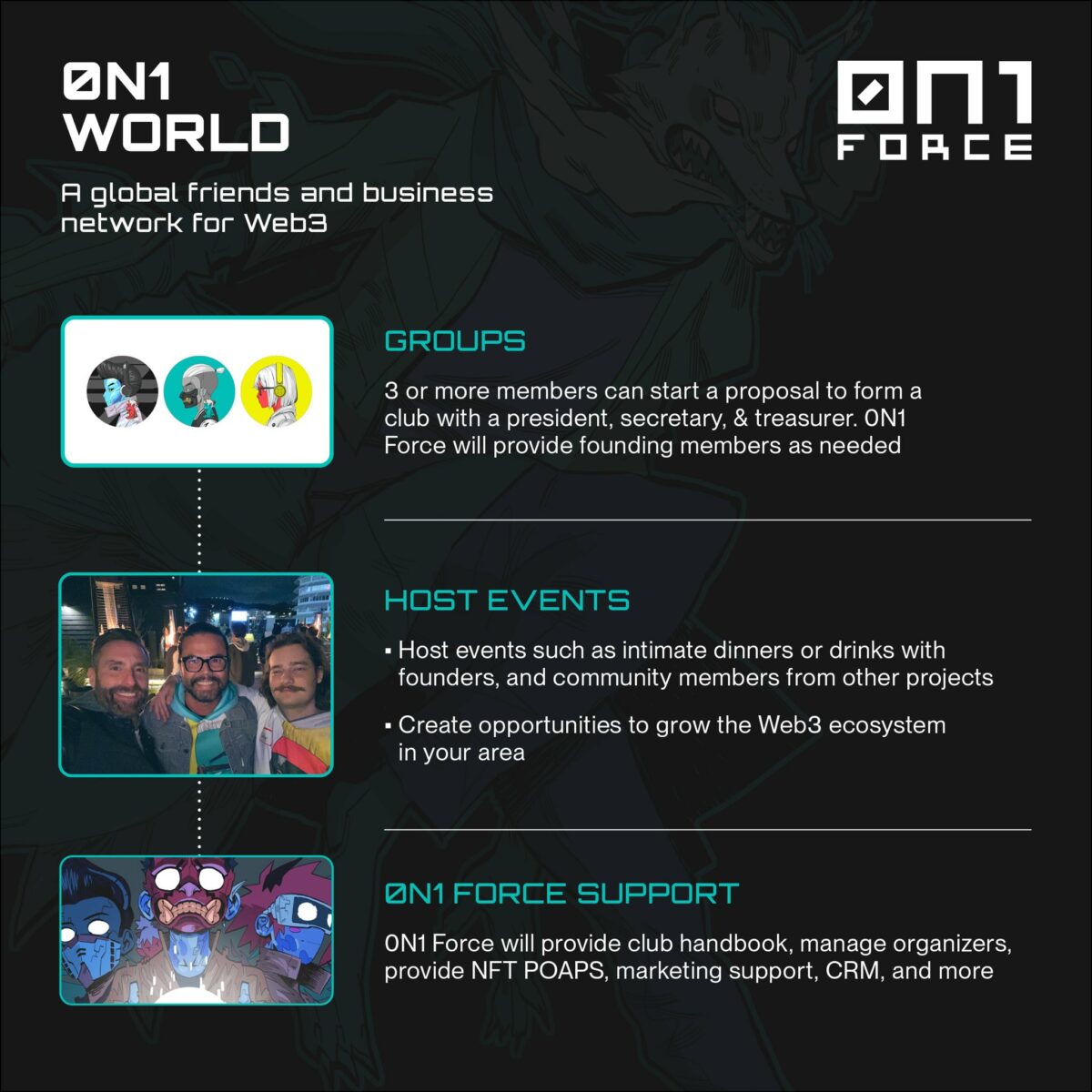 The R0nin Ambassador Program is a business development program for holders who want to be involved in the business operation of the project and officially work on agreements with the management. While most NFT projects tend to keep holders separate from management decisions, 0N1 Force encourages involvement and collaboration.
As an ambassador, participants will help find new partnerships and deals while enjoying exclusive benefits and rewards. As per the graphic depicted below, members receive a unique PFP as a token of their ambassador status and may qualify for bonuses, commissions and other incentives. This program provides an opportunity for individuals dedicated to the community to enhance their professional network and career opportunities.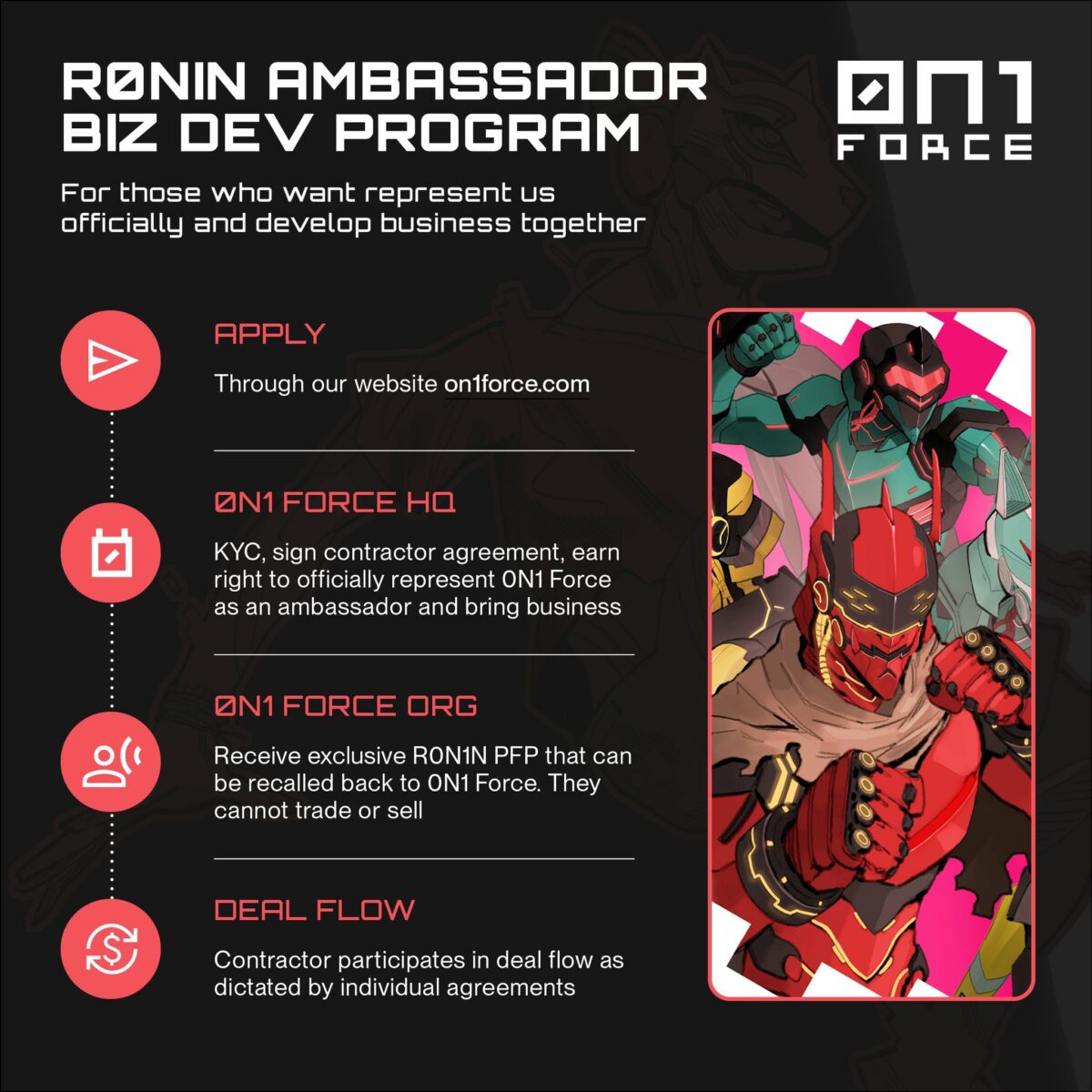 The future of the 0N1 Force
Despite the new management having been at the helm for less than a year, significant changes and new initiatives have already been implemented. As the room observes the unfolding narrative of 0N1 Force, the project's journey stands as a testament to community resilience. After navigating significant highs and lows, the project is currently on the upswing, confirming its commitment to innovation and community engagement.
"What makes us different from any other project is our community," Finn told nft now. "We have the most devoted community in Web3."
With a new guard in command, an innovative franchise model and a loyal community, 0N1 Force demonstrates the potential to rise, fall and rise again in the ever-evolving digital landscape. While the future remains unknown, the coming times will be the ultimate test of the project's resurgence.
"Our biggest news still hasn't come out yet," Finn said. "This is just the beginning."
Editor's note: This article was written by an nft employee in collaboration with OpenAI's GPT-4.