Blockchain Community Benefits Program Launched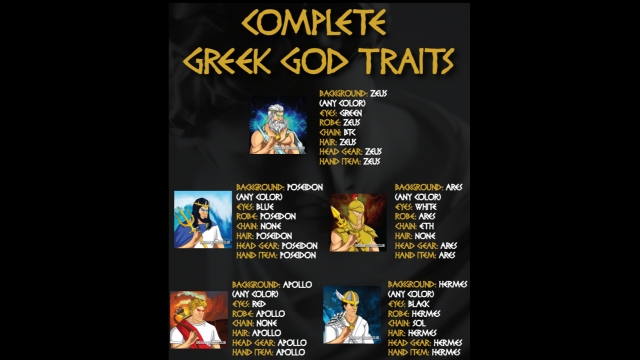 PRESS RELEASE
Published June 1, 2023
Let Hutch Help LLC's new report outlines the Greek Mythology Club project, which includes a number of Greek god-inspired collectibles, such as Zeus, Ares and Apollo.
More information is available at
As new NFT projects are launched on a regular basis, investors must use their industry expertise as well as their intuition to decide which project to add to their portfolio. However, projects that have a clear roadmap and an engaged community are often better positioned for long-term success. That's why Let Hutch Help LLC has spotlighted the Greek Mythology Club's project in its new report for its built-in audience of mythology fans and its strategic benefits system.
As the report explains, the Greek Mythology Club currently consists of 2 sets of 5555 NFTs that feature an artistic representation of Greek gods. Each NFT has its own distinct traits and characteristics, such as Zeus' BTC necklace and Hermes' winged headdress.
Readers of the report will learn how the project creates a sense of community and inclusion by offering unique HODL benefits for NFT owners. In addition, there are several benefits available to community members who share the project with other investors.
In the report, Let Hutch Help LLC also includes an in-depth presentation video explaining the Greek Mythology Club's mission, as well as details about the members of the development team. The presentation is made in character by Brendon Parker as Zeus, which further reinforces the world-building knowledge and community involvement of the project.
Investors wishing to become involved in the program can find further details in the report.
A spokesperson for the Greek Mythology Club said: "Our community building incentives go to the members of the project who help sell the collections with the intention of helping to build a stronger community."
Those interested can find more information by visiting
Disclaimer: The information provided on this page does not constitute investment advice, financial advice, trading advice or any other form of advice and should not be treated as such. This content is the opinion of a third party and this website does not recommend that any specific cryptocurrency should be bought, sold or held, or that any crypto investment should be made. The crypto market is high-risk, with high-risk and unproven projects. Readers should do their own research and consult a professional financial advisor before making investment decisions.
Let Hutch Help LLC
3531 S Logan St
D334
United States
COMTEX_434040032/2824/2023-06-01T01:17:02