WIN NFT HERO V2.1 Open Beta launches with a million-dollar prize pool for S1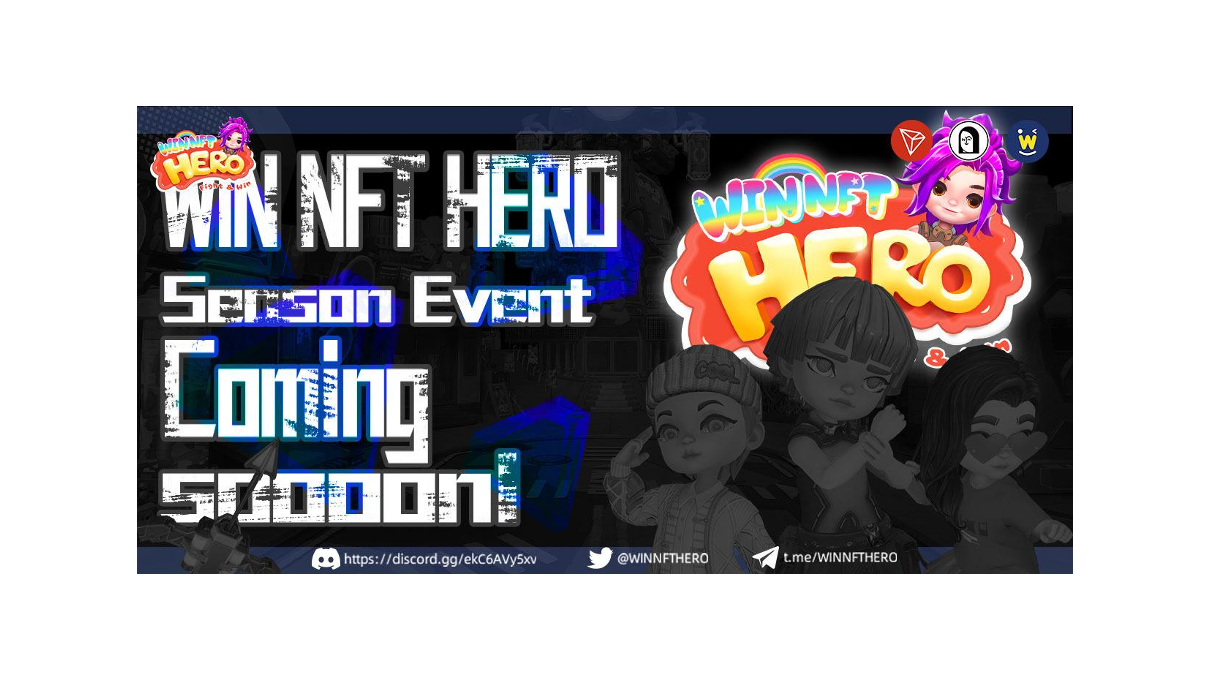 SINGAPORE – Media OutReach – 6 June 2023 – WIN NFT HERO is a TRON-based strategy game that combines GameFi and NFTs, giving players full ownership of their in-game NFT resources, including heroes and gear. It is considered to be the blockchain version of Teamfight Tactics (TFT), where players strategically position the heroes based on their abilities to secure victories in battles.
According to the official announcement, the WIN NFT HERO v2.1 Open Beta Test was launched on June 1, 2023. To elevate the game's impact and growth to new heights, the WIN NFT HERO team plans to kick off Season 1 on June 15, 2023 , with a staggering $1 million prize pool for the contestants.
The S1 is launched with a million-dollar prize pool
Season 1 of WIN NFT HERO will feature generous token rewards, including $NFT, $WIN and WNH, along with rare NFT resources. The grand prize pool for S1 is expected to exceed $1 million in value, making this opportunity too good to miss for Web3 gaming enthusiasts.
WIN NFT HERO S1 adopts an exciting new point-based PvP ranking system, and all matches will take place in the arena. To participate in PvP combat, players must have three N-level or higher quality heroes and click "Arena" on the left panel of the home screen or find NPC Emily in the in-game town. In this mode, players will be ranked by their total points earned, which is calculated using a points system that gives points for a win and subtracts points for a loss.
S1 for WIN NFT HERO will last 60 days. At the end of the season, WIN NFT HERO will award $NFT and $WIN, along with NFT rewards to each player based on their final score. But that's not all – as part of S1, WIN NFT HERO will host related events to reward participants with WNH tokens.
Completely new economic model
In April 2023, WIN NFT HERO unveiled its long-awaited v2.0 release and a fresh hero system, offering players an expanded range of options and strategic opportunities to compose their hero lineups. Building on the existing gameplay, version 2.1 of the game introduces a new economic model, a PvP ranked mode, and updated game rules.
In WIN NFT HERO's new financial model, $NFT and $WIN are the main circulating assets. These tokens can be used to upgrade heroes and trade in-game assets, giving players a competitive edge in battles. Valuable rewards, including $NFT and $WIN, can also be claimed when players participate in contests, events and complete specific tasks.
Seasonal events are also an important component of the game's economic model. In the upcoming S1, players will be able to fully immerse themselves in the strategy-based battles and experience the thrill of "Play to Earn" through fair competition.
Optimized player experience
WIN NFT HERO stands out from its peers in that it puts more emphasis on the players' experience. The launch of the NFT transfer feature in April 2023 allows players to transfer their NFTs into the game from their wallet, where they can engage in a variety of actions without gas fees, including synthesis, trading and training. Going forward, WIN NFT HERO plans to further remove TRON players' transaction costs on the official marketplace.
To remain relevant to players in this ever-evolving realm of Web3, it is necessary for Web3 games to create new game content at a higher speed and with greater stability. As a flagship GameFi product in the TRON ecosystem, WIN NFT HERO will redouble its efforts to provide a healthier financial model and more variety of games.
New players who don't want to miss out on Season 1 starting on June 15th can get involved in the WIN NFT HERO v2.1 Open Beta Test to learn about the new game rules and the tactical strategies to match the best hero line-up. In addition, WIN NFT HERO has launched a series of community events recently, where new players have the opportunity to win rewards, including rare NFTs and game props.
Follow us:
Website:
Disagreement:
Twitter:
Telegram (CN):
Telegram (NO):
Hashtag: #WINNFTHERO
The issuer is solely responsible for the content of this announcement.