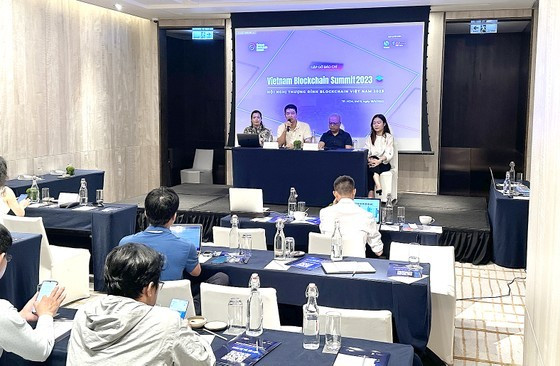 VINASA and the Vietnam Blockchain Association hold a press release for the Vietnam Blockchain Summit 2023
Chairman Hoang Van Huay of the Vietnam Blockchain Association is proud that his organization has greatly contributed to popularizing this useful technology across the country. Additionally, tech businesses are accelerating the training of blockchain human resources to work in large fields and universities.
A typical example of blockchain implementation is MeInvoice.vn, the e-invoice software developed by Misa Co. with a higher level of safety and security and anti-counterfeiting invoices. Blockchain has been used to record and update all necessary invoice information and statuses so that partners can easily check and authenticate this data. The software has received extremely positive comments from domestic companies.
Another successful application of the technology is an unattended e-wallet integrated into the Coc Coc browser and search engine to promote the use of Web3 as well. This e-wallet will be available in Coc Coc on all platforms for PC, MAC, iOS and Android, allowing users to easily and securely manage their secret keychain.
FPT has also developed its akaChain platform to identify its customers and track transactions. Viettel uses blockchain in medical e-mails. The banks of BIDV, MB, VPBank and Vietcombank use it in their financial transactions.
Vice Chairman Mai Duy Quang of the Vietnam Software & IT Services Association (VINASA) said blockchain has various implementations even in the piloting period. This technology will have important effects in several fields.
Blockchain has been chosen by many countries to be the key technology for economic development. Vietnam is considered a leading market for blockchain in the world with over 10 startups based on it. This market is predicted by experts to reach a value of nearly USD 2.5 billion by 2026.
Especially in the field of education, blockchain makes it much easier to detect a fake certificate. In day-to-day operations, businesses can monitor employees' current activities and their work performance. When it comes to digital signature, blockchain helps minimize fraud when sending documents and emails online because it ensures objectivity since there is no third-party interference.
One of the biggest challenges to developing blockchain in Vietnam is no clear legal basis in this field, which is a serious barrier to its implementation.
On 1St anniversary of the Vietnam Blockchain Association, Deputy Minister of Science and Technology Tran Van Tung recommended that the association investigate and prepare a proper proposal for government agencies to introduce a legal basis for blockchain as soon as possible. Along with that, we support guidelines for using this technology to establish big data to serve digital transformation purposes. Blockchain human resources training should receive a lot of attention so that Vietnamese programmers have the same level as their international counterparts, and easily create domestic and foreign networks.
According to decision no.2117/QD-TTg, issued on 16 December 2020 by the Prime Minister, blockchain research and development is prioritized in Vietnam in order for the country to be able to participate actively in Industry 4.0. The Ministry of Science and Technology has also approved the national key program for science and technology until 2025, clearly stating that blockchain remains in the second priority position, preceded only by AI technology.
Blockchain has gradually become a mainstay of Vietnamese technologies with many attractive applications such as a qualification storage platform in the education field, letter of credit and contract or payment guarantee in the banking field. Obviously, this technology is more widely accepted as a useful technology, not just cryptocurrency as previously thought.
Source: SGGP