In a now-deleted tweet, leading luxury brand Gucci made massive waves this morning. On twitter they announced via a tweet that they now accept @ApeCoin payments via @BitPay,selected Gucci stores in the US are expanding the range of cryptocurrencies available for in-store purchases, another step in the house's exploration of the Web3. For the first time ever, holders of this cryptocurrency will be able to purchase physical goods with the coin that was extracted from the BAYC economy.
Update: They added an extra one chirping with essentially the same information (and another typo).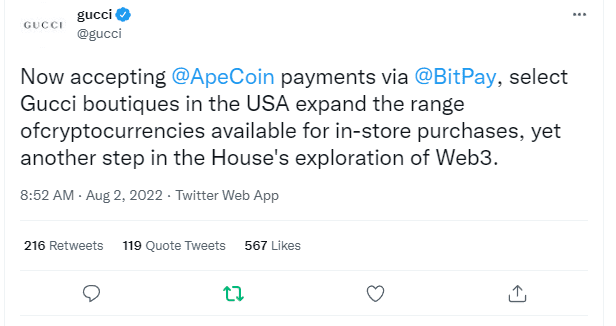 While the tweet remains true, the announcement is a bit more flawed as bitpay has added apecoin and Euro Coin to their expanded coin integrations. You can read the press release here.
"We added ApeCoin and Euro Coin because the customers of our luxury trading partners asked for it," said Stephen Pair, CEO of BitPay. "They asked, and we delivered."
We have contacted for confirmation or rejection based on the deleted tweet. Details to follow.
The Gucci story is a tale of luxury, fashion and style. It is one of the most iconic brands in the world.
In 1881, Guccio Gucci founded his company as a saddler's shop in Florence, Italy. His son Aldo would later take over the family business and turn it into a luxury goods empire.
Gucci became an international company in 1963 when it was acquired by Investcorp, an investment company based in Bahrain and London.
In 2000, Gucci was acquired by PPR (now known as Kering), a French multinational conglomerate that owns brands such as Balenciaga, Saint Laurent and Alexander McQueen.
Gucci has since grown to become one of the world's leading luxury fashion brands with over 60 stores worldwide.
About ApeCoin
Culture has found new expression in web3 through art, games, entertainment and events. The possibilities for blockchain's impact on culture are so endless that they can't possibly be predicted all yet. APE is a token created to support the next, controlled and built upon by the community. It will serve as a decentralized protocol layer for community-led initiatives that propel culture further into the metaverse.
ApeCoin (APE) is the native ERC-20 token of the Bored Ape Yacht Club NFT collection, a subsidiary of Yuga Labs. ApeCoin will be the primary token used across the Ape ecosystem, a world of Web3 games, experiences and communities. In addition to spending with BitPay merchants, APE holders can turn ApeCoin into cash instantly with the BitPay card, plus buy gift cards to top brands and retailers. BitPay app users can also purchase, store and exchange APE seamlessly.