Can SOL Whales Offer Respite As DeFi And NFTs Suffer?
For the Solana Prize, it has been a choppy week, month and year. SOL holders were already suffering heavy losses, but the FTX fallout only compounded the distress.
A year ago, the Solana ecosystem was burgeoning with developers, new projects, dApps and well price gains. The numerous network outages, combined with the bearish macro market conditions, managed to bring the SOL price down 95% from the November 2021 record high.
One of the main reasons Solana extended its losses was its deep connections with FTX and Sam Bankman-Fried. With the crypto market speculating whether Solana could ever recover from its losses, a look at the Solana ecosystem only soured investors' hopes.
Solana Price and sentiment suffer
Although the SOL price was already following a major bearish trend line, analysts expected the price to fall further. The recent FTX crash brought SOL prices down to March 2021 levels.
Massive selling was the sentiment in the market, with trading volumes for Solana recording a big increase alongside the falling prices. After the FTX crash, SOL lost over 63% in price within a few days.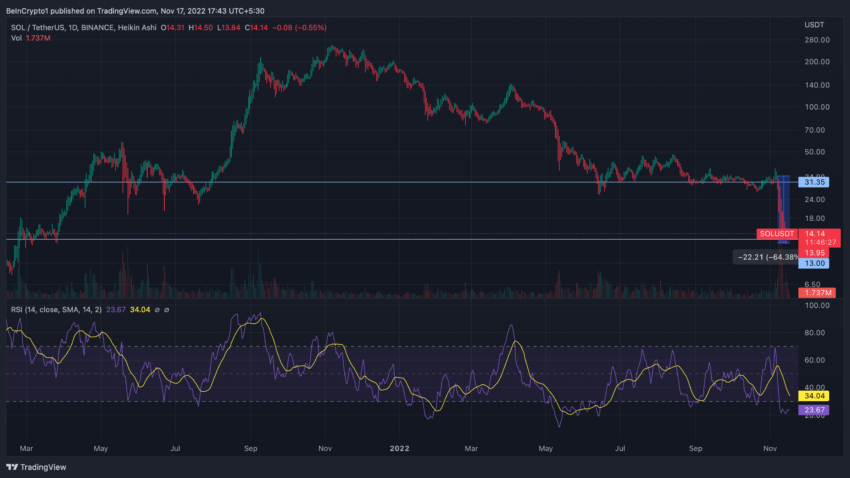 In particular, the relative strength index for SOL was still in the oversold zone, which shows that sellers dominated the market.
Solana has often been described as an Ethereum killer, but apparently SOL had neither the development activity nor the social interest that would allow it to get closer to Ethereum. Development activity at Solana had fallen to a record low on November 11.

In addition to that, Solana also showed a persistent negative weighted social sentiment, except for a few days in November. With technical indicators and social sentiment swinging bearish, can NFT and the DeFi ecosystem save SOL?
DeFi and NFT ecosystem to support SOL?
After the FTX fall, the Solana DeFi ecosystem suffered a blow. The total value locked (TVL) in DeFi on Solana dumped over 96% since the peak value of $10 billion. Data from DeFiLlama suggested that there was only $318.05 million in collateral in DeFi on Solana.

The number of unique addresses that brought more than $100,000 in NFTs on Solana recorded a significant decrease since November 3rd. The total number of NFT trades also did not generate any major activity in the Solana NFT market.
While everything else seemed to be in distress, a positive trend for Solana holders was that the percentage of the stablecoin's total supply held by whales with more than $5 million saw a bump.

Apparently whales increased their stock by 0.88%, despite SOL being in tatters. At press time, the Solana price was trading at $14.19, recording 4.01% weekly gains. Going forward, the SOL price may see a slow and long rise upwards.
Disclaimer
All information on our website is published in good faith and for general information purposes only. Any action the reader takes on the information contained on our website is strictly at their own risk.