The good, the bad and the ugly
Apple Inc. this week updated guidelines for how users can interact with non-fungible tokens (NFTs) on the App Store. The update is made in a typically bombastic consumer protection tone. But the changes could have a profound impact on the NFT sector. A mixture of good and bad, but also some clearly ugly developments to negotiate.
Consequently, developers can now sell NFTs on Apple's App Store, but only via the in-app payment mechanism. That means content creators will be responsible for paying Apple's controversial 30% tax on sales.
Apple NFT Restrictions
Until now, NFTs seemed to have avoided the fees. Apple is concerned that users do not avoid the tax by using crypto to pay for NFTs in the App Store. So that added even more limitations.
"Apps may allow users to view their own NFTs, provided that NFT ownership does not unlock features or functionality within the app," the firm said.
Similarly, users can browse NFTs owned by others. As long as the apps don't "include buttons, external links or other calls to action that direct customers to purchase mechanisms other than in-app purchases."
Apple says apps must be licensed in the countries where they operate. This can complicate life for platforms running discrete operations. It added that apps cannot "use their own mechanism to unlock content … such as license keys … cryptocurrencies and cryptocurrency wallets, etc."
Participants in the NFT industry interpreted the changes differently. Some expressed cautious optimism, while others were completely skeptical.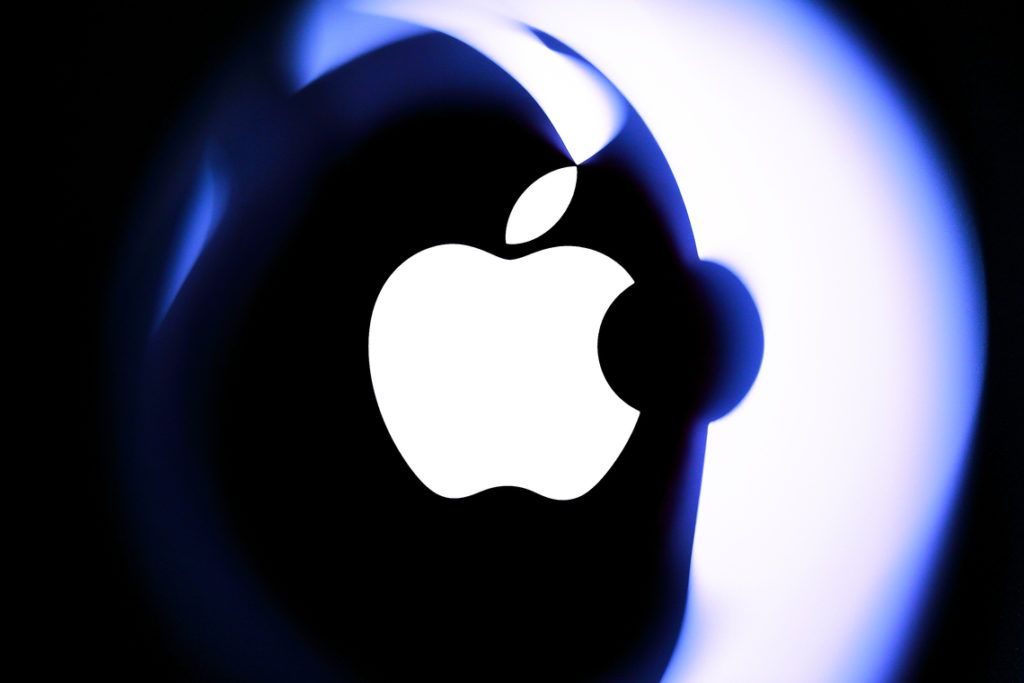 The good
Apple has been criticized for its punitive transaction fees. Still, non-fungible tokens on the iOS App Store "could allow a billion more people to gain exposure to NFTs and open up a massive new market for cryptocurrencies."
Mattias Tengblad, CEO of Corite, a web3 platform that enables fans to invest in artists, told BeInCrypto that the move is positive. Since Apple did not "ban NFT-related apps in any way, including those where tokens are bought and sold."
"Many marketplace apps will likely build 'companion' apps for iOS that allow users to organize, view and otherwise interact with their NFTs, while using a browser-based interface for the actual buying and selling part," he said.
"There are definitely ways around these restrictive fees. The fact that NFTs have entered the mainstream, that the biggest tech companies have to address their policies against it, is an encouraging sign," Tengblad added.
Chandler De Kock, head of growth at Astariaa protocol that provides liquidity for NFTs, BeInCrypto told:
"Major tech firms are increasingly adopting NFT technology, and Apple is one of many examples. Twitter with NFT avatars, Instagram and now Apple creating guidelines for NFT sales on their platform reinforces that people are interested in NFT -is."
Some observers argued that Apple has a comparative advantage since people will be able to buy NFTs using fiat currencies. This will bring in those people who find crypto complicated to participate in the market.
Still, the advantage may not be of much use. The high transaction fees of 30% could be a potential deterrent, they say.
The bad
Obviously, mandating the use of in-app Apple payments when buying or selling is restrictive due to the high fees. That could put the technology giant on a collision course with suppliers. Apple has been in the past defendant to charge high transaction fees.
Ian Corzine, a lawyer and metaverse consultant, said Apple is not playing by the spirit and letter of DeFi.
"Yes, this is a head scratcher for me. Why does Apple want to alienate the sale of blockchain assets? Maybe to redirect to Apple only digital assets? Certainly not in line with our mantras of open, decent and interoperable," he tweeted.
With a market cap of $1.2 trillion, Apple maintains a stranglehold on apps that interact not only with the App Store, but also with technology. The latest decision could be an extension of its outdated monopolistic tendencies, experts say.
"NFT is fundamentally a web3 technology, and using web2 policies like the Apple App Store is like fitting a round peg into a square hole," De Kock, the Astaria CEO, told BeInCrypto.
"Sure, you can make it fit, but it's not ideal. The App Store's policy is one we naturally expected Apple to create eventually. Yet the implementation lacks a nuanced understanding of the market it's trying to address," he added.
Mattias Tengblad, the Corite CEO, said Apple could alienate users.
"If you're building an app for casual users, they want everything at their fingertips and do everything within a single app, using the methods they're most comfortable with," he told this publication.
"However, it is highly likely that huge fees will change customer behavior and cause them to seek alternative methods of buying and selling their NFTs."
For those who have spent time and resources developing NFT marketplaces in iOS, they will "definitely not [be] happy about this decision because it will be much more difficult to attract and retain users, says Tengblad.
The ugly one
Most proponents expected NFTs to face criticism from "prominent industry players, but it does not make sense" for the entities to deliberately try to limit their growth. Apple's exorbitant fees on revenue is a major bone of contention.
Telegram founder Pavel Durov reacted angrily after Apple stopped content creators on his platform from using third-party bots to sell access to their individual posts without paying a 30% tax.
Eventually, Telegram had to disable such paid posts on iOS devices. It said it will begin offering creators "easy-to-use tools to monetize their content — outside of Apple's restrictive ecosystem."
While the Telegram experience may not be directly related to NFTs, Durov's response illustrates the fate that may await some NFTs on Apple's App Store.
"This is just another example of how a trillion-dollar monopoly is abusing its market dominance at the expense of millions of users trying to monetize their own content," he said in a post on Telegram on October 28.
"I hope that regulators in the EU, India and elsewhere start to take action before Apple destroys more dreams and crushes more entrepreneurs with a tax higher than any state-imposed VAT," Durov added.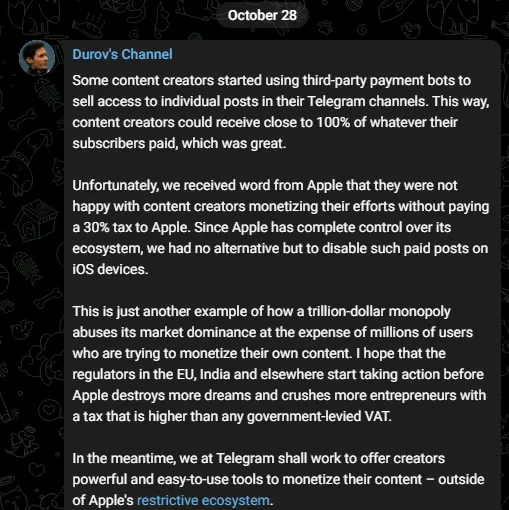 Astarias De Kock said the biggest threat from Apple's updated App Store Review Guidelines is the limitation of NFT and crypto adoption due to "such a restrictive sales policy." He explained:
"Web3 has taken steps and boundaries to make the user experience friendlier and mobile first. This policy has the potential to limit mobile push of web3 apps. Apple's policies can do more harm than good if not done correctly. Ultimately, the iPhone has to be a place where people can interact with web3 if it's an industry that wants to thrive."
Looking forward
In 2020, non-fungible tokens emerged as a cultural storefront for the cryptocurrency industry. They addressed new possibilities in the curation and circulation of art. NFTs swung fascinating endorsements from pop celebrities like Lindsay Lohan, Grimes and several others.
Digital artist, Beeple, sold an NFT for more than $69.3 million last year. Twitter founder Jack Dorsey converted his first ever tweet into a non-fungible token and sold it for $2.9 million.
Overall, non-fungible token industry volumes have topped $23 billion in 2022. The increase was led by marketplaces LooksRare and OpenSea, according to DappRadar data.
Going forward, the NFT lending market may not be as affected as the selling market, said Chandler De Kock.
But "the guidelines in their current language leave enough wiggle room for people to adjust around them. I'm sure Apple will respond to those attempts," he said.
"The post-growth of the web3 space is starting to interact more with web2 technology and will have to come to terms with the web2 standards. I expect moves like Apple's to be the first in a long line of political stances web2 companies are taking on web3 technology in the future."
Disclaimer
All information on our website is published in good faith and for general information purposes only. Any action the reader takes on the information contained on our website is strictly at their own risk.