adidas Originals x FEWOCiOUS: Where Art and Innovation intersect | NFT CULTURE | NFT News | Web3 culture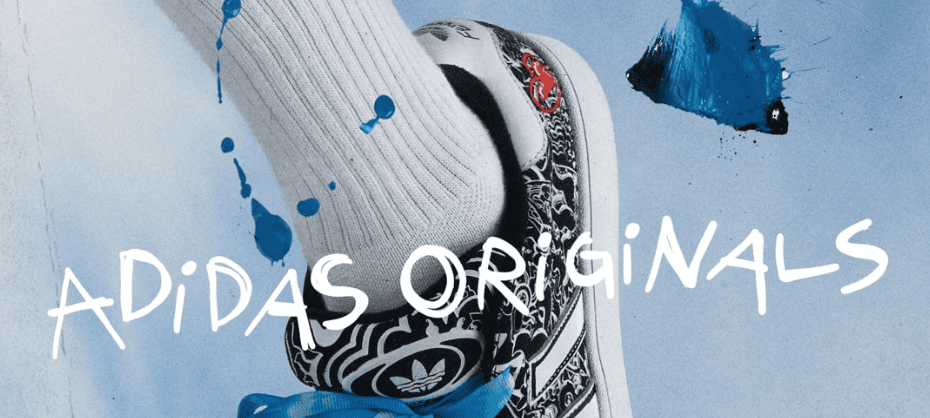 adidas Originals, known for its pioneering spirit and dedication to creativity, enters into a groundbreaking collaboration with visionary artist FEWOCiOUS. This partnership marks an exciting chapter in adidas Originals' journey of artistic exploration, cultural celebration and Web3 innovation. The collaboration weaves together Trefoil's ethos of innovation with the distinctive creative style of FEWOCiOUS, promising a dynamic mix of physical and digital products.
FEWOCiOUS, or Victor Langlois, has emerged as a leading figure in the ever-growing Web3 art community. He captivates the audience with his playful style, bold aesthetic and deeply personal narrative, recounting his experiences as a transgender youth. FEWOCiOUS first officially collaborated with adidas /// Studio during an installation at Art Basel Miami in December 2022. However, his relationship with the brand stretches back to when he was 16, using adidas silhouettes as his artistic canvas.
The collaboration starts with the launch of a limited edition, product-linked Trefoil Flower Mint Pass. Set to release on June 22nd, the Mint Pass opens up an exclusive opportunity for NFT holders to claim the free artist-designed adidas Originals Campus 00 shoe. The iconic adidas silhouette undergoes a transformative 'linework' design in black and white, with vibrant, cloud-patterned blue and white laces reflecting FEWOCiOUS's signature style.
"Working with adidas is a real dream come true. I can't believe I was painting adidas shoes in my bedroom by myself four years ago and now I officially get to collaborate with them! This is one of the longest projects I've ever worked on and keeping things a secret is so hard I just want to shout it from the rooftops! I truly believe in the future of fashion and footwear and the intersection of digital and physical, and I'm so excited for these to see the world and for everyone to be a part of that journey with me." – Fewocious
This launch also marks an innovative leap for adidas. It's the first time the brand has issued a token-gate, NFC-tagged sneaker tied to a limited-edition NFT. FEWOCiOUS x FewoWorld Owners: Paint NFT and ALTS from adidas 'Decos' and 'Soles' [ALT]er Ego NFTs will receive exclusive benefits, including discounted pricing and early access via OpenSea on June 22. Furthermore, a number of NFT holders from the wider ecosystem will also have early access, ensuring inclusivity before the public sale later that day.
By providing the exclusive opportunity to claim the physical Campus 00s shoe with the purchase of the adidas Originals x FEWOCiOUS Trefoil Flower Mint Pass, this collaboration not only pushes the boundaries of creativity and innovation for the Web3 community, but also inspires wider integration of technology and artistry in the fashion landscape. Join us on this incredible journey, where art and innovation create the extraordinary.
Fewo x adidas timeline
The limited edition Trefoil Flower Mint Pass launches on 22 June through OpenSea.
A supply of 4,500 Mint Passes will be offered on a first-come, first-served basis.
Mint Pass owners can redeem the artist-designed physical adidas Originals Campus 00 shoe later this summer.
Phase 1: Pre-sale
June 22 – Allow List Level 1
Starts at 12:00 PM EDT / 6:00 PM CEST; lasts for 60 minutes.
Limit of 2 Mint Passes per wallet.
Exclusive benefits (early access and discounted price) for holders of:

ALTS from adidas NFT with DECOS ALT[er] Ego
ALTS by adidas NFT with SOLES ALT[er] Ego
FEWOCiOUS x FewoWorld: Paint Drops

Fresh price: 0.2 ETH.
June 22 – Allow List Level 2
Starts at 12:00 PM EDT / 6:00 PM CEST; lasts for 60 minutes.
Limit of 3 Mint Passes per wallet.
Pre-sale access at regular price for holders of:

All ALTS from adidas NFT ALT[er] Egos
All FEWOCiOUS NFT holders

Mint price: 0.25 ETH.
June 22 – Allow List Level 3
Starts at 1:00 PM EDT / 7:00 PM CEST; lasts for 60 minutes.
Limit of 3 Mint Passes per wallet.
Pre-sale access for holders of:

Allow one
Bored Ape Yacht Club
Doodles
Citizens: Generative Identities
Carpet radio: Genesis NFT
Carpet radio: Membership card
Carpet Radio: Cory van Lew PFP

Mint price: 0.25 ETH.
Phase 2: Public sale
Starts on 22 June at 2:00 PM EDT / 8:00 PM CEST.
Continues until all Trefoil Mint Passes are sold out.
Mint price: 0.25 ETH.
Limit of 5 Trefoil Flower Mint Passes per wallet.
Benefits for Trefoil Flower Mint Pass holders
Access to claim one adidas Originals x FEWOCiOUS Campus 00s physical sneaker.
The Mint Pass will be replaced by a Digital Twin NFT.