These 5 companies have filed Web3 or NFT patents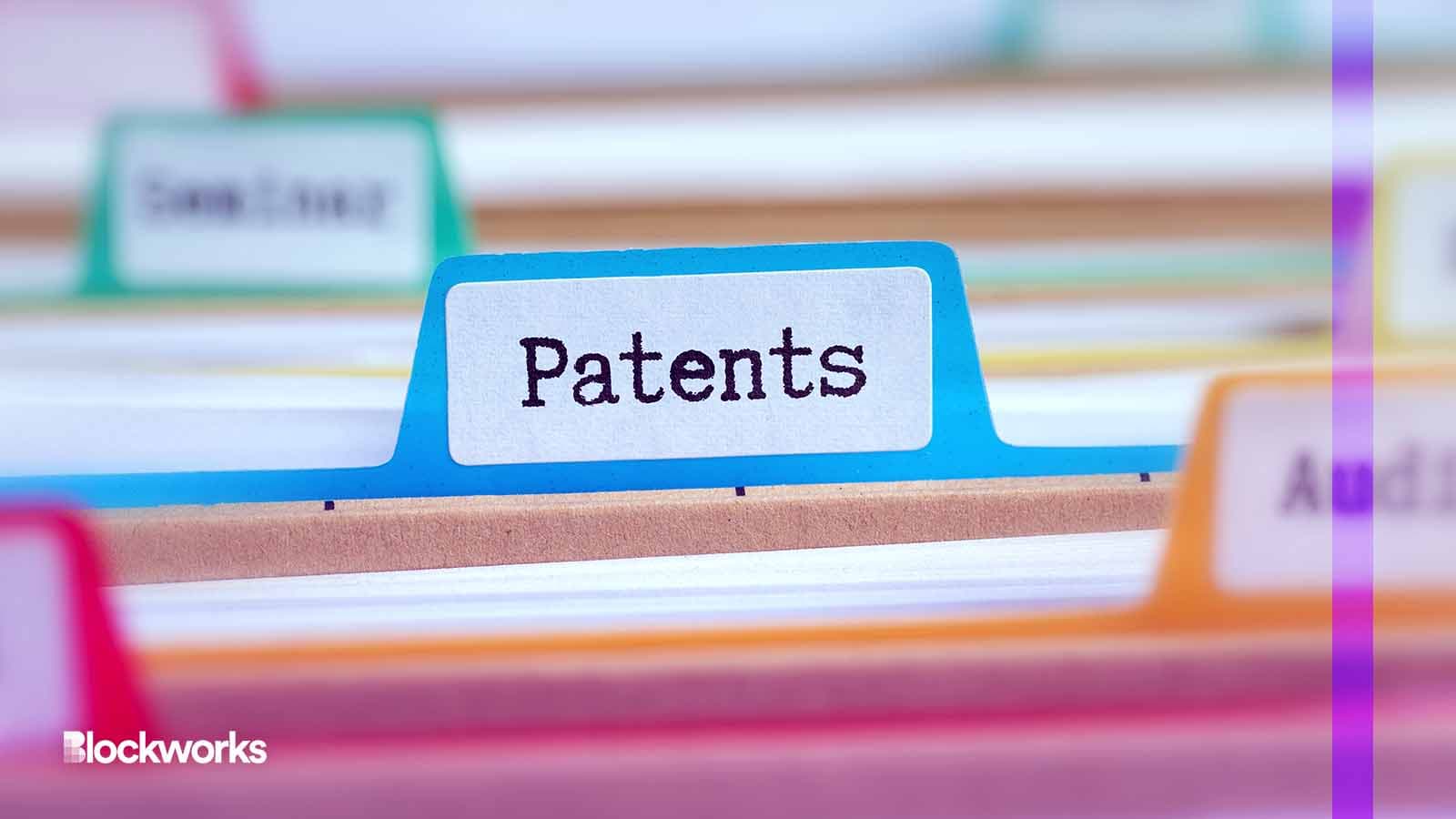 With digital assets on the rise again, companies across the board have re-locked blockchain-related patents.
Filings for US – and international – patents or trademarks related to cryptocurrency sectors, including blockchain initiatives and NFT businesses, are a primary method for companies to secure related intellectual property. And potentially gain a competitive advantage in the meantime.
As the mainstream tech giants, including Amazon, jump on the NFT bandwagon, the industry has analyzed the possibility of a spring-to-summer surge in exclusive access to events and gatherings.
It can turn passive customers into active players, according to Gökçe Güven, CEO of Web3 utility platform Kalder. The goal of increasing engagement and brand loyalty can apply to both individual NFT creators and large brands.
"Blockchains and blockchain-based systems are poised to unlock a wide range of use cases that we probably haven't even thought of yet," Güven told Blockworks. "But these use cases need to be structured in a way that incentivizes the individual creator to participate, and this includes legal and regulatory systems."
While crypto initiatives continue to develop broadly, patents and commerce are growing in enforcing the verification that NFTs inherently provide on the blockchains they are based on, according to Nihar Neelakanti, CEO of carbon-backed NFT maker Ecosapiens.
"Trademarks and NFTs are like Cinderella and the magic slipper – a natural fit," Neelakanti said.
Here's a snapshot of five businesses with brand recognition that have recently filed patents for Web3 offerings. Companies often apply for patents with no expectation of using a product in the immediate future.
Haribo
The German candy manufacturer Haribo has taken a leap into the NFT world.
The gummy bear maker filed an NFT-related trademark application with the US Patent and Trademark Office on April 25. The company applied for a number of applications related to "digital collectibles in the form of downloadable multimedia files".
Those sectors, according to the filing, include "downloadable audio and video recordings, digital avatars and cartoons related to confectionery."
FICO
Global analytics software company FICO recently hit a patent jackpot. Not only were 12 patents awarded, but the use of blockchain for data and model management was also patented.
FICO, the company behind the popular FICO Credit Score product, has long been a resource used by lenders to assess people's creditworthiness and determine whether they are suitable for loans or credit cards.
Scott Zelda, the company's chief analytics officer, has said that blockchain technology has practical value-adds in terms of AI, analytical management and audit execution.
FICO's new patent is about keeping track of how machine learning models are created, used and monitored. It uses a "shared ledger".
Fujitsu
In March, Japanese electronics giant Fujitsu filed a trademark application covering many services, including crypto trading.
The filing with Fujitsu enabled the company's ambitions to delve into everything from money exchange to digital asset management – ​​as well as crypto brokerage services.
Fidelity Investments
Boston-based investment management firm Fidelity Investments broke new ground by filing trademark applications in December that indicated plans to serve clients in a virtual world powered by digital currencies.
Three patent applications revealed Fidelity's plans to explore marketing, placements, recruitment and referral services for investment and financial planning in the metaverse. It also looked at creating an NFT marketplace where you can buy, sell and trade digital goodies.
Read more: Fidelity doubles down on Metaverse with financial literacy experience
Formula one
In the fourth quarter of 2022, motor racing league Formula 1 filed a number of crypto-related trademarks for its "F1" acronym, changing from NFTs to stores for virtual goods.
---
Get today's best crypto news and insights delivered to your email every night. Subscribe to Blockworks' free newsletter now.
Want alpha sent straight to your inbox? Get degen trading ideas, management updates, token performance, unmissable tweets and more from Blockworks Research's Daily Debrief.
Can't you wait? Get our news in the fastest way. Join us on Telegram and follow us on Google News.
---