Leading Korean blockchain developer WEMIX and Hub71, Abu Dhabi's global technology ecosystem, have signed a memorandum of understanding (MoU) to create and accelerate growth opportunities for their respective portfolio companies and Web3 startups.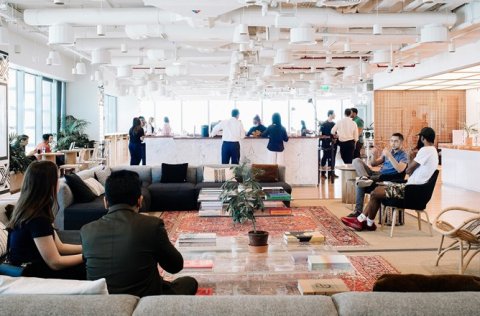 As part of the partnership, WEMIX startups will have the opportunity to join Hub71's community of over 200 startups and access its range of value-added programs and incentives.
Selected startups will also benefit from the opportunity to scale globally through Hub71's web3 and digital assets specialist ecosystem, Hub71+ Digital Assets, to unlock access to a range of programs, initiatives and a broad network of corporate, government and investment partners in the UAE and global markets.
At the same time, startups within Hub71+ Digital Assets will be able to leverage the deep technical knowledge and expertise of WEMIX and its parent, Wemade, in various areas of blockchain technology, including GameFi and DeFi.
"Developing strong partnerships with key stakeholders such as Hub71 is an important part of our commitment to expanding the blockchain ecosystem in the MENA region," said Shane Kim, CEO of WEMIX Pte Ltd. "We are confident that this partnership will accelerate the creation of more opportunities for blockchain start-ups from around the world looking to expand into the Middle East and help realize our vision of developing a global blockchain economy powered by a wide range of innovative applications that develop overcome traditional technological barriers to drive sustainable future innovation.
Elodie Robin Guillerm, Head of Growth and Strategy at Hub71, said: "The addition of WEMIX to our Hub71+ Digital Assets ecosystem is a testament to the growth potential to be harnessed from Abu Dhabi. Hub71 truly values ​​partnerships and collaborations and by beating us together with leading blockchain companies like WEMIX, we can work together to develop industry-leading blockchain technologies to give rise to more opportunities for Web3 start-ups."
The WEMIX and Hub71 partnership will offer key benefits including:
WEMIX will be the latest partner to join Hub71+ Digital Assets and its ecosystem of leading regional and global partners for digital asset exchanges and service providers, technology providers, venture studios, venture capital funds and blockchain platforms
Fast-tracking applications from WEMIX start-ups to join the Hub71 Incentive Program, designed to reduce the costs and processes of setting up in Abu Dhabi
Dedicated resources for mentorship and technical support will be provided by WEMIX to Hub71 GameFi and DeFi start-ups
Facilitate access for Hub71 start-ups to access WEMIX's global Web3 community
Blockchain companies within the WEMIX ecosystem will also gain access to Hub71+ Digital Assets
"This marks another milestone in WEMIX's Middle East expansion following the opening of its first office in the region, as we capitalize on the vibrant energy and positive industry support in one of the world's fastest growing regions for blockchain technology." Kim added.