ftNFT welcomes the summer season in Dubai with major NFT art exhibitions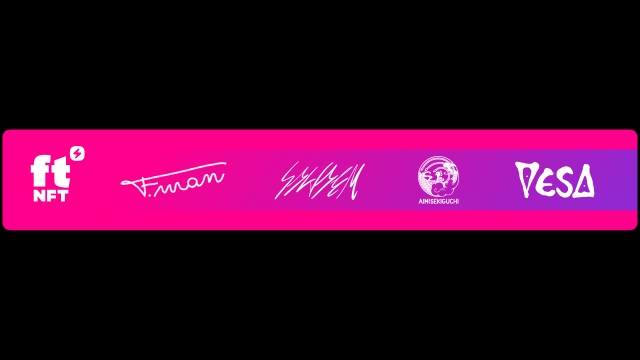 PRESS RELEASE
Published June 6, 2023
ftNFT welcomes the summer season in Dubai with major art exhibitions
Dubai, UAE, June 2023 – ftNFT, the trending NFT phygital space, is pleased to announce the arrival of the summer season in Dubai of phygital art exhibitions. These exhibitions feature famous artists from around the world. To name a few, ftNFT hosts UAE-based Belgian artist F.man, Italian artist Salvaem inspired by his global travels, Japanese VR star, internationally acclaimed VR artist Aimi Sekiguchi and international brand VESA.
F.man, the idealistic artist known for his innovative techniques and diverse artistic styles, F.man's immersive art installations combine painting, sculpture, photography, performance, digital art, light art and technology. Her work has been exhibited worldwide, captivating audiences with its depth, emotion and magnetism. F.man's previous exhibitions have been shown at prestigious venues such as the Louvre Museum Abu Dhabi and the Sea of ​​Culture Foundation Sharjah. ftNFT & F.man's collaboration kicks off with an exhibition at the Dubai Mall in May 2023, followed by a much-anticipated exhibition at the Mall of the Emirates, commencing on 3 June. These exhibitions will showcase F.man's unique talent for creating artistic depth and emotion.
Italian artist Salvaem has partnered with ftNFT to showcase his unique Yeshuas collection, which draws inspiration from his global travels and vibrant street art. The collaboration is featured at the ftNFT phygital space in Dubai Mall's Chinatown, with a grand opening ceremony scheduled for 28 May 2023. Through the ftNFT platform, attendees can engage with NFTs and experience the captivating artworks first-hand, celebrating the fusion of traditional artistry and digital innovation.
Aimi Sekiguchi, the internationally acclaimed Japanese Virtual Reality (VR) artist, unveiled her latest artistic creations and cultural explorations on May 26 at ftNFT Phygital Space in Dubai Mall. Sekiguchi's solo exhibition will immerse visitors in a unique phygital experience, allowing them to interact with art in a new and captivating way. With his innovative use of VR technology, Sekiguchi pushes the boundaries of artistic expression and invites viewers to question the possibilities of merging physical and digital realms.
VESA, an award-winning digital art pioneer, collaborates with ftNFT and AKNEYE to showcase the innovative fusion of physical and digital art through the AKNEYE sculpture. This collaboration represents a milestone for both VESA and ftNFT, highlighting the transformative impact of NFTs on the art world. The partnership aims to redefine how art is experienced and valued, establish ftNFT as a leading force in the NFT industry and provide art enthusiasts with a unique environment to explore.
ftNFT continues to distinguish itself in how art is experienced and shared through ground-breaking technologies and community involvement. The art exhibitions in Dubai demonstrate ftNFT's commitment to push artistic boundaries and provide artists and art enthusiasts with a platform to explore new frontiers.
For more information about ftNFT and the upcoming exhibitions and events, please visit www.ftNFT.com
ftNFT
Dubai Design District
Building 5B
United Arab Emirates
COMTEX_434452360/2824/2023-06-06T12:35:58