Luxury Brands Double Down on NFTs Despite Bearish 2022
Luxury brands such as Gucci and Tiffany & Co. has continued to embrace NFTs despite the ongoing crypto winter. But as flooring prices continue to fall, for how long until they throw in the towel?
Christmas time is almost here. That Mariah Carey song is already playing on repeat and people are out buying presents. Decorations begin to adorn malls and stores. This also means that 2023 is just around the corner.
It seems that the use of digital goods and services has increased more and more every year in several industries.
Luxury brands have certainly benefited from this transition. The world's best brands are incorporating technologies to recreate brand images and reinvent the consumer experience. The fashion industry in particular is experiencing a historic transformation thanks to new technologies such as blockchain and non-fungible tokens (NFT).
This article looks to explore the trend of digital fashion as incorporated by luxury brands, thanks to the proliferation of NFT collectibles.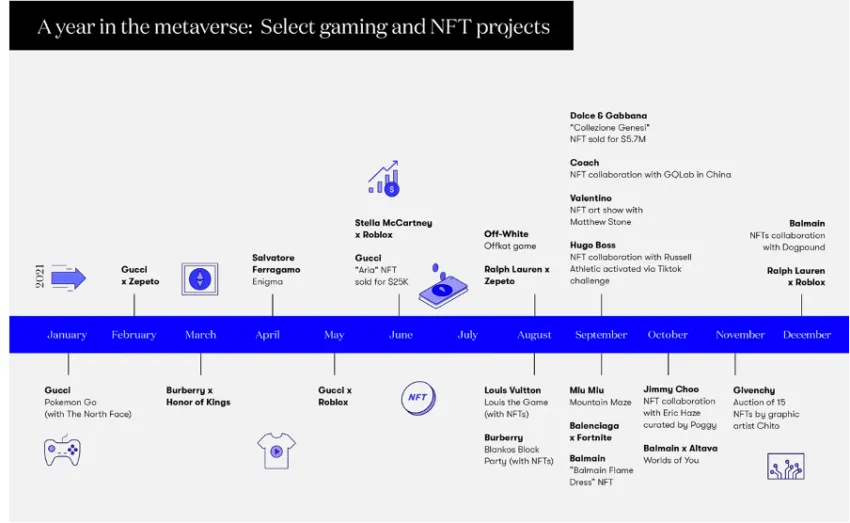 But one question that comes up again and again: will this trend of buying products in the digital world really overtake the physical world model?
NFTs and Luxury Fashion: The Combo
Many brands have developed digital strategies in the wake of the COVID-19 pandemic. With immense potential and what seems like limitless possibilities for the future of fashion, NFTs have caught the eye of luxury fashion moguls.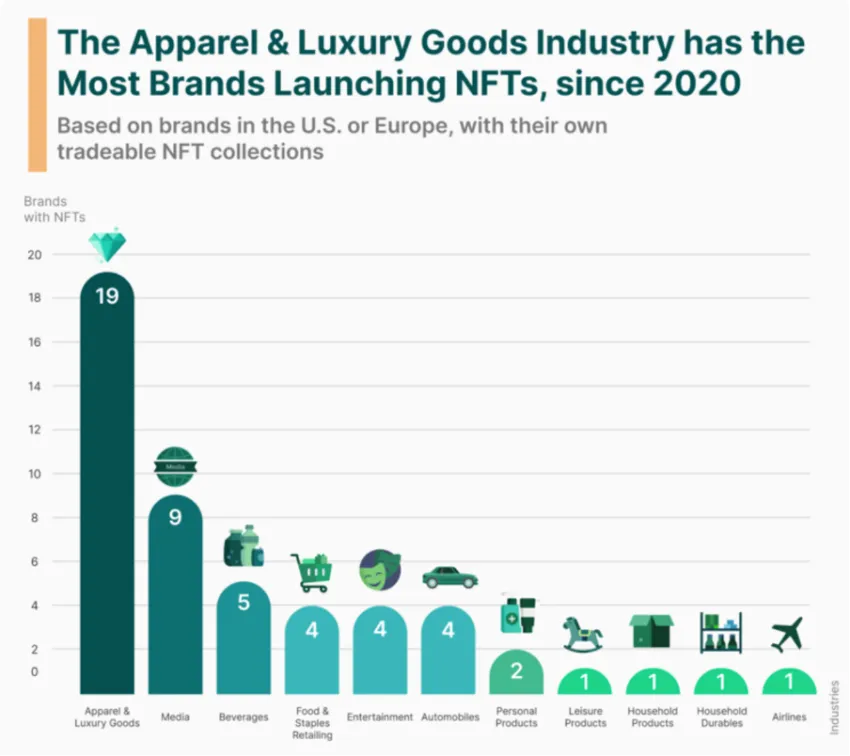 NFTs have changed how brands and their respective customers interact with each other. But not only that, the non-fungible aspect even allowed brands to innovate their revenue models using royalties and second-hand markets.
"The ability to trade products freely created a new revenue stream by charging creator royalties in pre-owned sales, an estimated $96 billion market in 2019."
Another aspect of this "conscious" link also helped brands cut expenses. Platforms like Twitter and Discord have become new marketing channels that engage communities at a low cost and have created new ways for customers to communicate and interact with each other.
Luxury groups such as Gucci, Dolce & Gabbana, Tiffany & Co., Moncler and Burberry, among many others, have already joined the NFT race.
The registration list
Data collected in December 2021 for the Vogue Business Index showed that 17 percent of brands in the index were already working with NFTs. This number increased in 2022 as more luxury brands jumped on the NFT bandwagon and began experimenting with this new medium.
Gucci, the iconic fashion powerhouse, has been around since 1921. It's known for its luxurious, exclusive designs and quality craftsmanship—and now NFTs.
In collaboration with the brand's luxury creative director, Alessandro Michele, and digital artisan Wagmi-san, the 10KTF Gucci Grail collection came to life in Q1 2022.
As part of the Gucci Vault metaverse, the director took inspiration from the journey from Rome to create New Tokyo – a floating city in a parallel universe.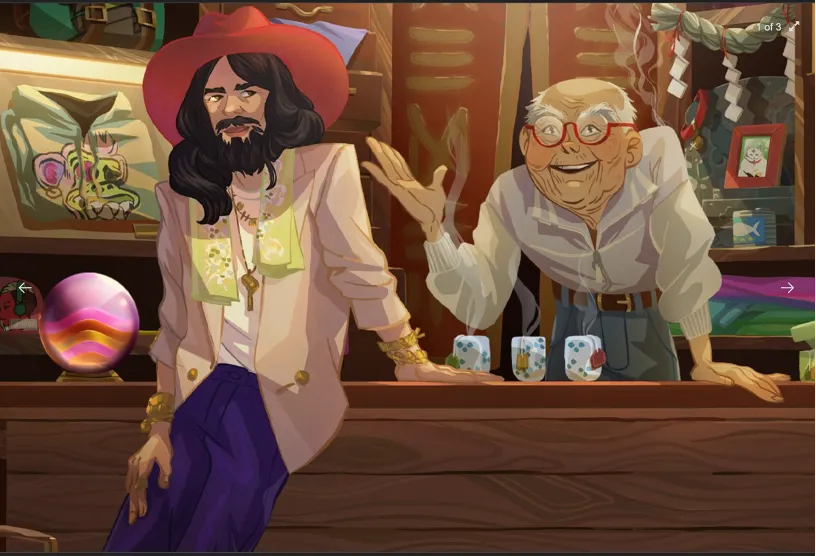 "In this metaverse metropolis, he crosses paths with the famous digital craftsman Wagmi-san, legendary for crafting coveted items in his 10KTF shop."
In May of this year, Dolce & Gabbana and Polygon-based Metaverse fashion company UNXD teamed up with Chainlink for the unveiling of the DGFamily Glass Box:
On the latter front, Moncler debuted its NFT collection in October. Arianee, one of the leading web3 brand platforms, announced its partnership with the luxury brand.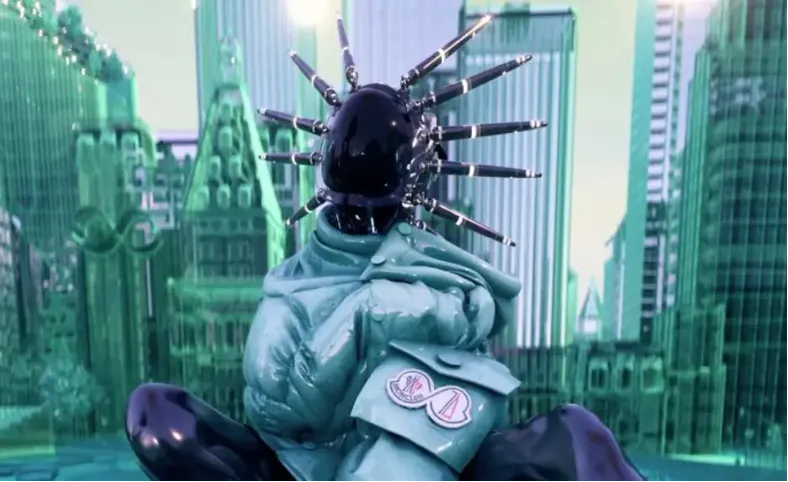 Moncler integrated Ariane's NFT and online custody wallet solution into its ecosystem to offer a seamless experience to its most engaged consumers.
The list goes on and on. However, as we approach the end of 2022, we are witnessing a significant drop in crypto prices. This, in turn, has strongly affected NFT sales.
Expectations vs. reality
The number of users on OpenSea, the largest NFT marketplace by volume, dropped drastically in 2022. The chart below gives a glimpse of the decline within a one-month period.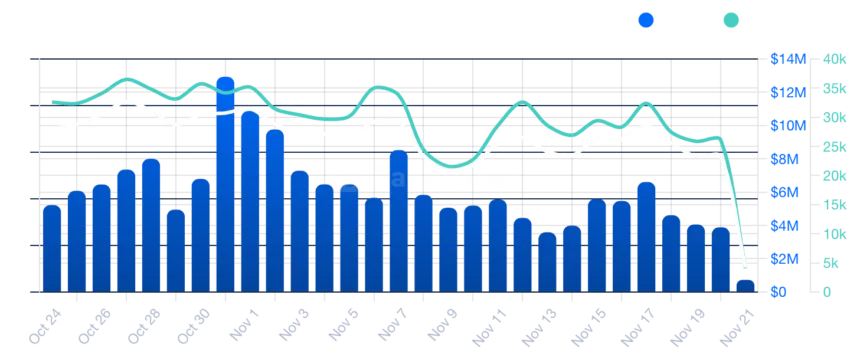 During this period between October 24 and November 21, the monthly trading volume was high at around $13 million and has now fallen back to $4 million.
This has massively reduced the floor prices (lowest price for a single NFT) for some of the top brand NFT collections.
Consider Gucci's 10KTF Gucci Grail Collection. The price to mint one of the NFTs from the first generations of this collection was 1 ETH ($2,800 at the time) when it launched.
However, given the Ethereum price correction and falling interest, the floor price is currently at 0.52 ETH (currently ~$570) on OpenSea.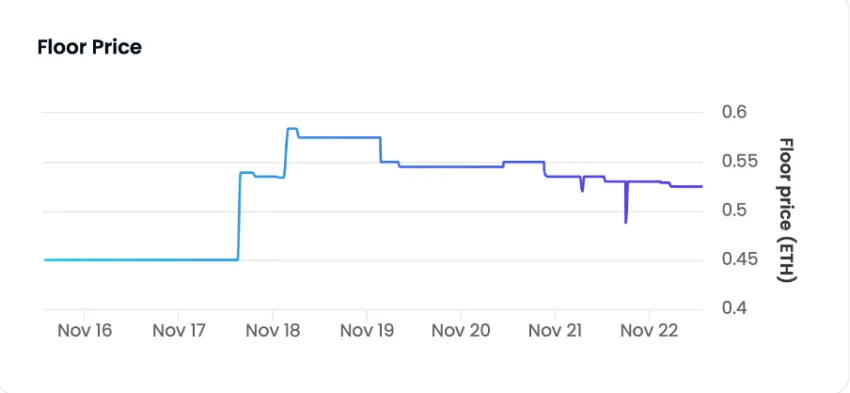 Likewise, the floor price for the Dolce & Gabanna Glass Box collection dropped to 0.24 ETH from 0.4 ETH just a month ago.
Other collections also suffered from furious interest. For example, Tiffany and Co. raised more than $12.5 million on its first NFT collection, called NFTiff.
The collection consisted of 250 CryptoPunk-inspired NFTs priced at 30 ETH each. At the time, the collection sold out in about 20 minutes. The floor price has now fallen far below the coin price.
The floor prices of the aforementioned NFT collections have fallen below the mint prices. This can be seen below in a chart with data from Delphi Digital: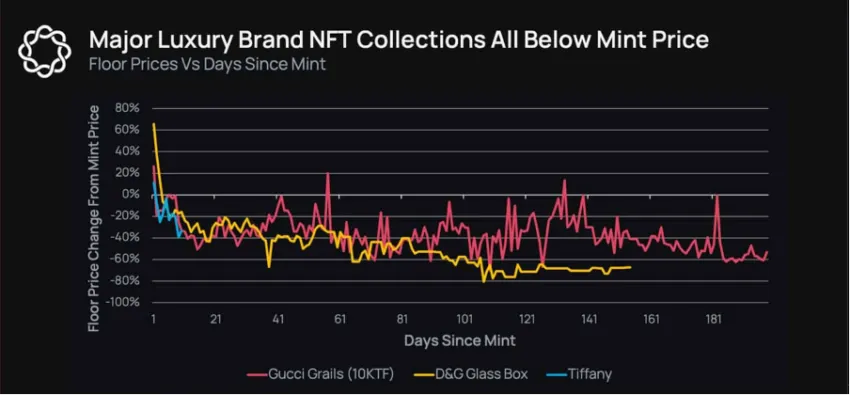 Do you still fancy this trend?
Many luxury brands continue to see the NFT market as an integral part of their business despite the price drop.
BeInCrypto reached out to representatives from some of these brands on Twitter to get their thoughts on this NFT adoption trend. However, no one has responded at the time of publication.
Despite the declining interest, Morgan Stanley believes that the metaverse, gaming and NFT sectors could represent 10% of the luxury goods market by 2030.
Disclaimer
All information on our website is published in good faith and for general information purposes only. Any action the reader takes on the information contained on our website is strictly at their own risk.