Why These Crypto Traders Are Bearish on Bitcoin (BTC) Price
These two renowned crypto traders have been vocal about their bearish outlook for the Bitcoin (BTC) price and the rest of the crypto market. Both give different justifications for their beliefs.
Crypto Capo believes that the movement is manipulated
Well known crypto trader @CryptoCapoafter being inactive for over a month, tweeted that he still believes the trend is bearish and new lows below $16,000 will follow. He gives two reasons for this:
First, altcoins are facing major resistance.
Second, the move is manipulated with BUSD and USDC.
While it is possible to analyze the first claim by looking at a technical analysis of the cryptocurrency market, the second seems to lack evidence to back it up, as his trading strategies are not included in the tweet.
When you exclude Bitcoin (BTC), the altcoin market cap (ALTCAP) is trading in the resistance area of ​​NOK 605 billion. While ALTCAP surged above it several times, it failed to reach a close above the range.
However, the daily RSI has broken out of its bearish divergence trendline (green). This often precedes significant bullish trend reversals. As a result, it is possible that ALTCAP will break out and increase towards the $680 billion resistance area. If not, ALTCAP could fall to the $518 billion support area again.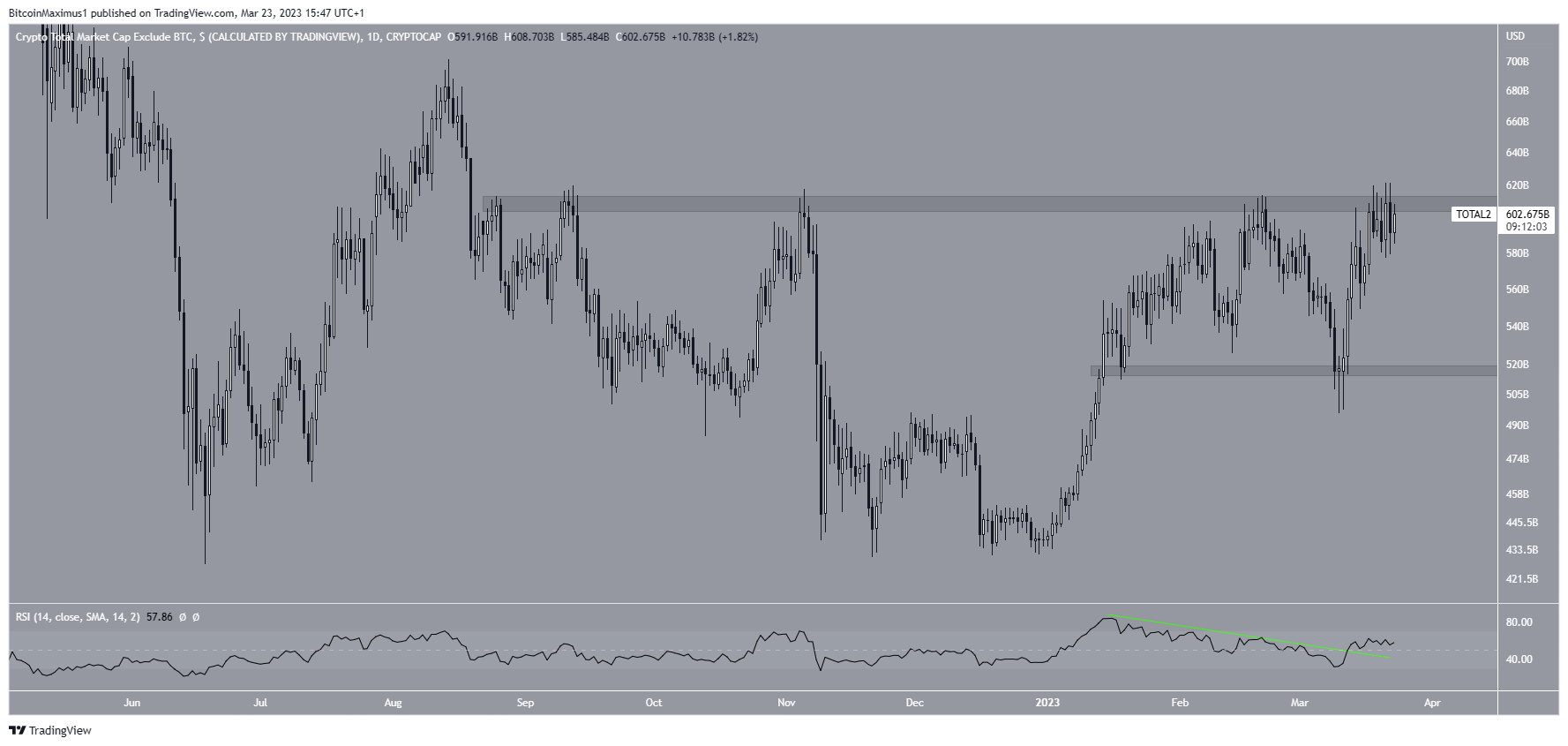 In any case, there have been cases in the past where the Bitcoin price has broken out above a key resistance area (green icons) while the altcoin market value (green) has fallen below a support level (red icon). This was particularly visible during the upswing in 2019. As a result, it may not be accurate to draw conclusions for the bearishness of the Bitcoin price by looking at the altcoin market cap.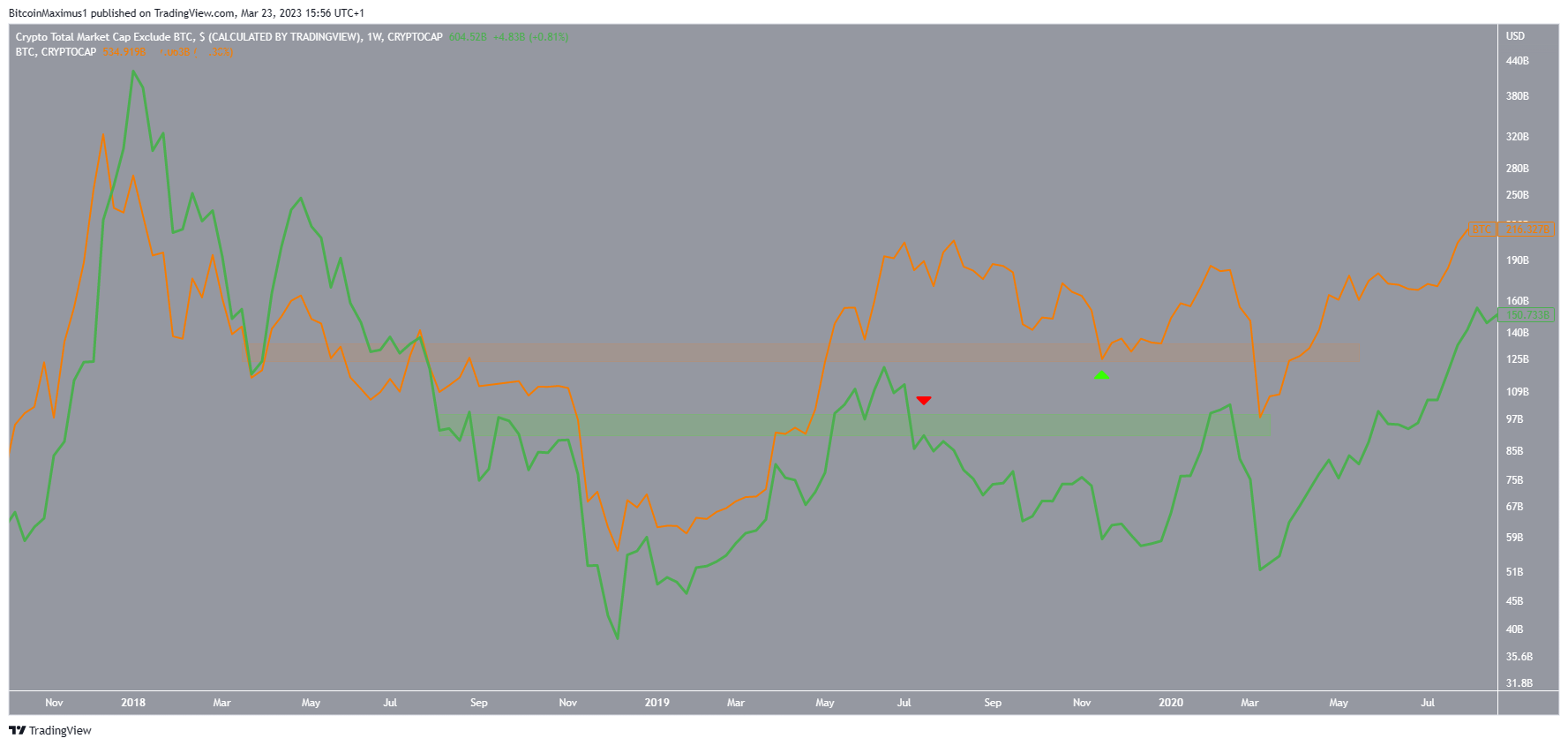 Profit Blue Believes Bitcoin (BTC) CME gap will be filled
Well-known cryptocurrency trader @profit8lue says that a retest of the $10,000-$11,000 range will happen because there is a CME hole there that needs to be filled. The gap refers to the difference between the closing price of Bitcoin futures on the Chicago Mercantile Exchange (CME) on a Friday and the opening price the following Monday.
However, it is worth mentioning that the March 6-13 decline filled the last CME gap (green circle). The gap in the tweet is a very small gap (red circle) that has been there since September 2021. It also coincides with the $10,000 support area, which is the closest if the digital asset breaks below today's low. As a result, if the Bitcoin price were to fall below $16,000, it could very well reach this area.
However, there are no immediate signs that this will happen.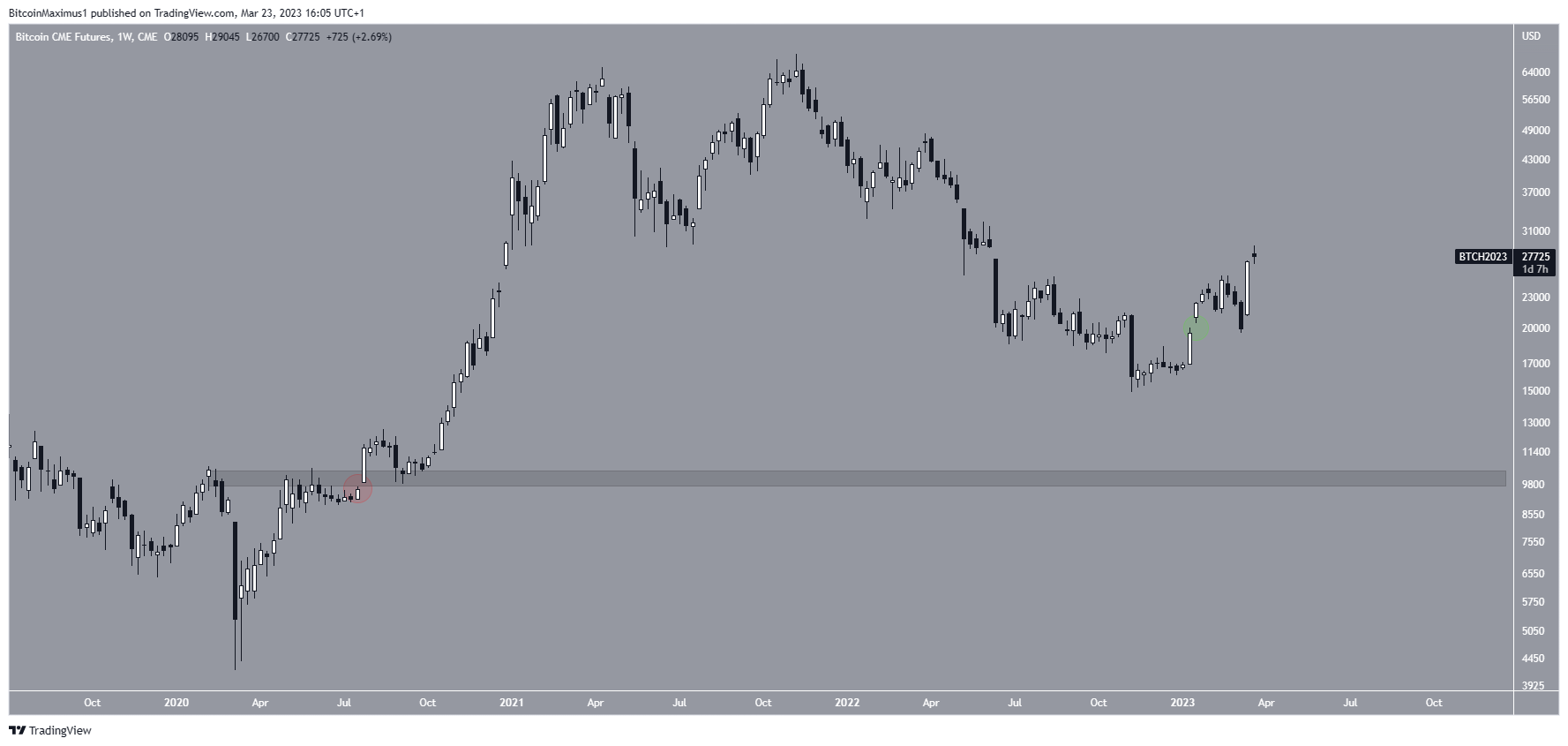 For BeInCrypto's latest crypto market analysis, click here.
Disclaimer
BeInCrypto strives to provide accurate and up-to-date information, but it will not be responsible for missing facts or inaccurate information. You agree and understand that you should use all such information at your own risk. Cryptocurrencies are highly volatile financial assets, so do your research and make your own financial decisions.