Shiba Inu users claim that the Shibarium code was copied from Rinia
Users in the Shiba Inu Discord community claim that Shibarium has the same chain ID as another blockchain called Rinia. Some also claim that the multi-sig wallet is not run by completely unique individuals.
The crypto community is having a heated discussion about Shiba Inu's tier-2 scaling solution, Shibarium. The Discord server for the project discusses the origins of Shibairum, with members of the community claim that it was a ripoff of the Rinia chain. They also pointed out that the chain ID was unchanged.
The tweet in question also posted images from discussions in the Discord channel, saying a mod mentioned "manipulation and silence." One of the messages says the following:
"Shytoshi has created manipulation against the entire team with slanderous lies and manipulation along with members of the community to do his bidding. There are also people who help him do this who know it's all a lie but are doing it for fame , money and promotions."
Shytoshi Kusama is the main developer of the project. Kusama responded to the original messages, saying it was an attempt to discredit the effort.
Discussions on the Discord server surfaced with the claims, with many claiming that it could spell the end for tokens linked to the meme coin.
User makes demands for chain ID and Multisig wallet
The main attack that the community had was the fact that the chain ID was the same as Rinia. They shared screenshots of the chain and its ID on the server.
The discussions reached another level of intensity after people asked for proof that the multi-sig wallet was actually run by nine different people. One person reported that there were not nine unique people running the multi-sig wallet.
This could be problematic for Shibarium, which launched its early public beta test on March 11. The highly anticipated solution may now have to explain itself before it is officially launched.
Shibarium claims could cause SHIB price to fall further
There is no official word yet on the allegations made over Discord. Whether this affects the full launch of Shibarium is unclear. But things may become clearer in the coming days.
The steps Shiba Inu has taken others towards full launch include the launch of a Shibarium portal, with Binance.US announcing full support for SHIB around the same time.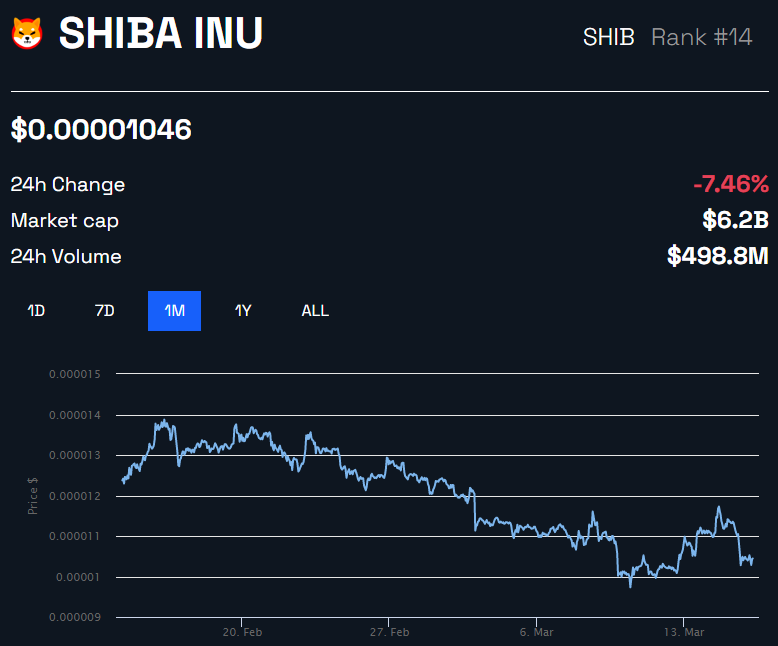 The allegations may also cause the price of SHIB to go even further. The token took a 33% hit in February, and some expect it to fall further.
Disclaimer
BeInCrypto has reached out to the company or person involved in the story for an official statement on the latest development, but has yet to hear back.