Pudgy Penguins Launch Toy Line, Make $500,000 in 48 Hours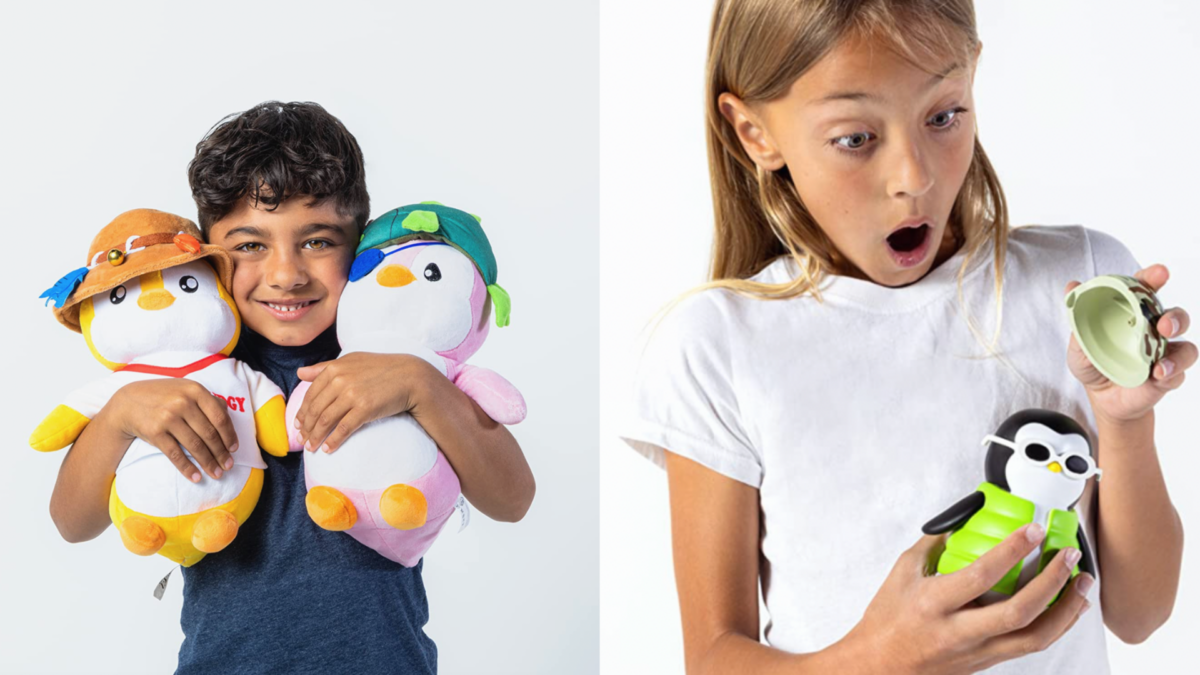 Yesterday, the Pudgy Penguins NFT Twitter handle tweeted out a video announcing the release of Pudgy Toys, its physical line of family-friendly plush and figure toys. The video also unveiled Pudgy World, an online portal that provides non-Web3 native consumers with their first blockchain wallet and soul-bound and tradable NFTs.
The video, which shows a child playing in his bedroom with the NFT-inspired toys in a tribute to Toy Story franchise, marked a special moment in the project's history and the first community-licensed mass-market product line from a Web3 brand.
"This will be the first time NFTs and blockchain technology are introduced to the everyday consumer, in a seamless, non-intimidating way," the team wrote in the tweet announcing the release.
Pudgy Penguins IRL
Those who purchase a Pudgy toy will receive a birth certificate that unlocks a feature box from season one of Pudgy World, an ecosystem that the Pudgy team describes as a "socially immersive experience" where users can connect and communicate with other owners across world. Each box contains four to six "regular" to "epic" traits that can be traded, sold, or used to equip your Forever Pudgy Penguin.
This allows consumers to customize their own unique NFT "without them knowing," according to the tweet announcing the release. Once they are satisfied with their Forever Pudgy Penguin, they will mark it on the blockchain as a dynamic NFT whose properties can be changed and further customized at any time.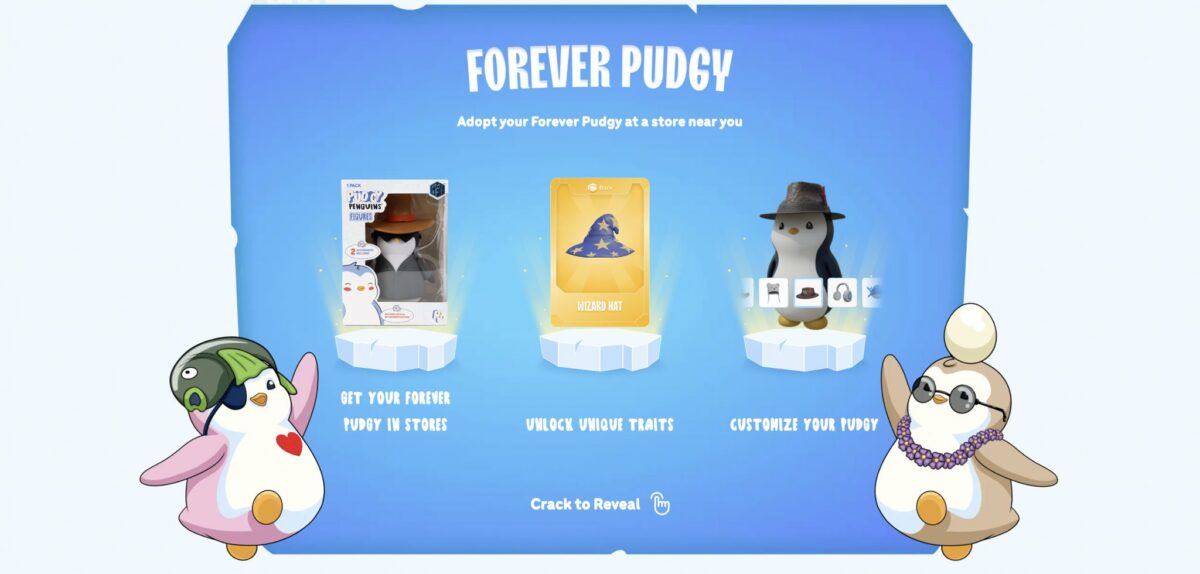 Part of Pudgy's long-standing brand strategy has been to present a welcoming face to non-Web3 natives. With nearly 530,000 followers, Pudgy Penguins has a remarkably strong presence on Instagram. The account provides feel-good content based on the Pudgy aesthetic, and followers will find no mention of the words "NFT" or "blockchain." Similar to the approach brands like Candy Digital and Reddit have taken over the past year, a significant part of Pudgy Penguins' marketing strategy has been to downplay the technology behind the brand.
That tactic seems to be paying off for the company. According to Pudgy Penguins CEO Luca Schnetzler, they have sold almost $500,000 worth of toys on Amazontotaling over 20,000 individual toys, with an average order value of around $130.
"If the momentum on my Amazon seller dashboard continues as follows, it will be one of the most successful debuts of a product that I've ever been a part of," Schnetzler said in a Twitter post detailing the release. "In the last 48 hours, we have received just under half a million dollars in toys. We launched quite recently; I don't think it's too shabby."
While the team has yet to release details, Pudgy Penguins toys will soon hit the shelves of "some of the most prominent retail and specialty stores in the world."
Using IP to build sustainable NFT empires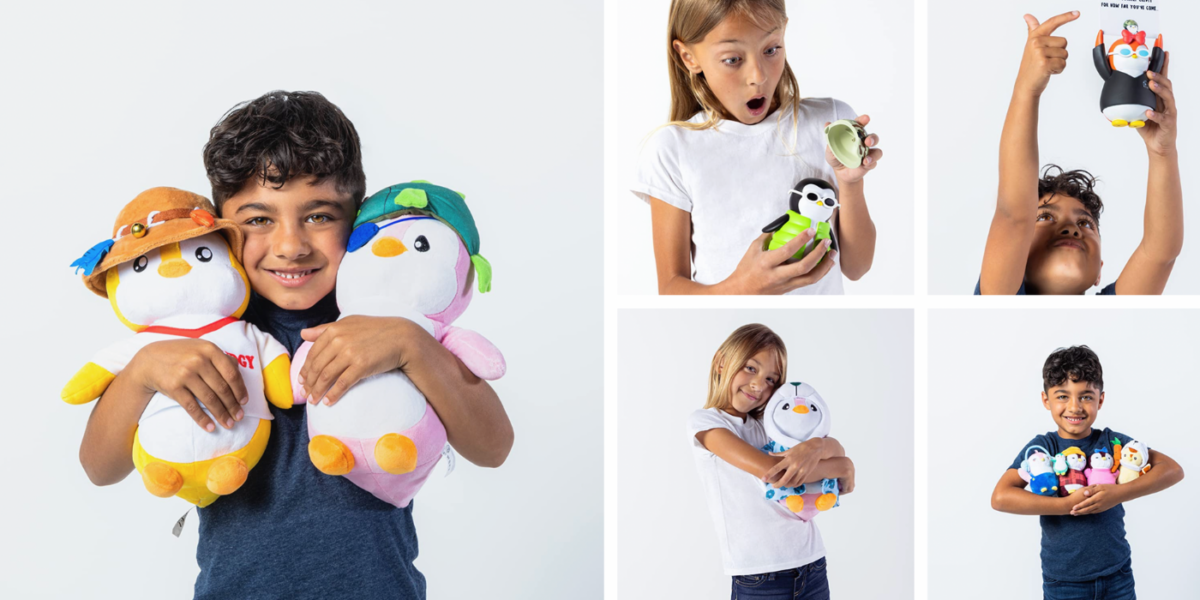 Management at Pudgy Penguins has been hinting at their IRL merchandise plans for some time now, teasing the toys in the run-up to the 2022 holiday season. Speaking to nft now last November, Schnetzler described how the team has a focused vision for the PFP space that largely involves the retail market.
By changing the usage contract for the NFTs under the Pudgy banner, holders could take part in unique contracts negotiated by Pudgy management that focused on family-friendly IRL products. Apart from plush and figurines, the team is also looking to produce children's books. Furthermore, Pudgy holders can monetize their NFT individually, but if their commercial income exceeds $500,000 in annual revenue, those holders are expected to work with the Pudgy team and enter into a licensing agreement.

Such IP exploitation is only becoming more common in Web3, especially as teams and NFT holders alike increasingly ponder the utility and purpose of owning a non-artistic NFT. The team behind the Goblintown NFT project, Truth Labs, also announced this week that they had negotiated two unique contracts with members of The 187 collection that will allow holders to earn a share of royalties and branded merchandise revenue.
The strategy could be a lifesaver for an industry facing some significant challenges in terms of sales volume, general activity and enthusiasm for the NFT space. While more time is needed to see how the retail market will ultimately respond to such products, and whether they will prove effective in getting the crypto-skeptic on board, Pudgy Penguins has made an encouraging splash so far.