Pepe Soho's powerful NFTs bring amazing visuals to life in the metaverse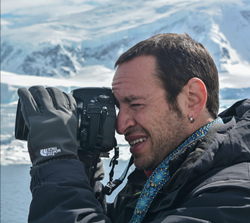 "Coming Home is a testament to the healing magic of nature. It represents the meditative journey back to oneself."

MEDELLIN, Colombia (PRWEB)
16 November 2022
Pepe Soho, the renowned photographic artist from Mexico, recently unveiled his "Coming Home" NFT art collection. Soho is the only award-winning photographer to develop virtual NFT resources that immerse the user in a metaverse experience. The initial release includes ten tokens from the Coming Home nature series, with future releases to follow, and is available for purchase on Open Sea and Nifty Gateway.
"Coming home is a testament to the healing magic of nature," Soho said. "It represents the meditative journey back to oneself."
Soho's exquisite and rare images have captivated international audiences for over a decade. Now a metaverse pioneer, Soho and the developers at Uno Meta have created NFT masterpieces that come to life in the Metaverse. Each NFT comes with an owner key that grants exclusive access to a private Metaverse gallery in Landian. When NFT is activated, it provides a fully immersive, audible and interactive experience.
The Coming Home project is a historic collaboration and the first to represent the Metaverse, a real-world museum, galleries and Earth's inhabitants on the Moon. A cross-cultural artistic achievement, it promotes the human bond with the earth, individual well-being and spiritual awareness.
"For me," said Soho, "the Coming Home collection represents the meditative journey back to oneself."
For more information on the Coming Home NFT collection, visit and follow Pepe Soho Twitter and Facebook.
About Pepe Soho

World Photographic Cup winner Pepe Soho is a nature and landscape photographer from México. Before completing his studies at New York's International Center of Photography (ICP) and honing his craft over many photo expeditions across more than 50 countries, he was an accomplished fashion designer, musician and entertainment operator. The Pepe Soho Mystika Immersive Museum is a 14,000 square meter spiritual experience located in the heart of Tulum, México's Mayan heritage cultural center. Soho also has galleries in the Polanco district of México City and Playa del Carmen. In addition, the fully immersive virtual gallery Coming Home is NFT in the Landian metaverse. Visit to learn more about the artist.
About UnoMeta

Uno Meta Team has been in the blockchain space since 2012. Constantly evolving, it fosters lifelong relationships with clients and artists. In collaboration with the Landian Foundation, Uno Meta, LLC showcases collections such as Pepe Soho's "Coming Home" nature series in the Metaverse. In addition, the site is a one-stop shop for artists worldwide, assisting with development, design, immersive experiences and more.
Share the article on social media or email: