LatAm fintech giant EBANX expands its payment solutions to Africa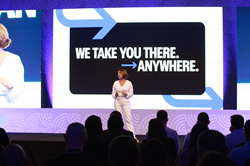 – Africa is now full of growth potential. Digital adoption and consumption of electronic goods and services has accelerated rapidly in the countries, and investment capital has flowed into the region, says Paula Bellizia, president of global payments at EBANX.

BRAZIL and MEXICO CITY (PRWEB)
14 September 2022
EBANX, a global payments fintech company founded in Latin America, announced that it is expanding its operations and payment solutions outside of Latin America for the first time during the sixth edition of the annual Latin America Summit powered by EBANX in Mexico City. Having increased its footprint to 15 Latin American countries for more than a decade, EBANX has prioritized global expansion on the African continent, which it believes is the next major growth frontier for digital payments and digital markets during the 2020s.
"This is the moment for Africa and it is quite reminiscent of the Latin American landscape back in 2012 when EBANX first began its journey by giving global merchants access to sell more goods and digital services via the internet to Latin Americans through local payment methods," said João Del Valle, CEO and co-founder of EBANX. "Africa's rapidly growing digital economy is only in its early days and is projected to grow up and to the right for the next decades. Together with local players, EBANX will be a catalyst to realize the many benefits of a digital economy even faster." »
According to a June 2022 report published by Endeavor with contributions from McKinsey & Company, there is currently a $115 billion digital economy in the region, the result of a combination of a young and digitally savvy population, increasing digital penetration and the impact of the COVID- 19 pandemic.
When it comes to the digital gaming market, the Africa region is the fastest growing in the world, according to Newzoo. It is currently a $2.6 billion market, scaling five times faster than the global average by 2022, and is expected to grow at nearly 10 percent per year through 2026. The streaming market in Africa, currently at $1.9 billion , is expected to accelerate even faster, at 14 percent per year through 2026.
– Africa is now full of growth potential. Digital adoption and consumption of electronic goods and services has accelerated rapidly in the countries, and investment capital has flowed into the region, says Paula Bellizia, president of global payments at EBANX. "After studying the region and building a deep understanding of its local actors, entities and challenges, we are diving into Africa to provide local payment solutions that will help build the digital economy at a rapid pace, drive wider financial inclusion for the population , and provide greater access to a range of goods and services from global merchants interested in building their market share there."
According to Endeavor's June report, "The Inflection Point: Africa's digital economy is poised to take off," along with Egypt, the three African countries that EBANX focuses on first (South Africa, Kenya and Nigeria) account for 32 percent of the continent's population, 51 percent of GDP and 73 percent of the start-up accelerators active in Africa today. Africa's compound annual growth rate (CAGR) from 2010 to 2019 was higher than both Europe and Latin America.
Importantly, a high level of mobile penetration and consumption in African countries positions the region to be the "next frontier" – but while increasing mobile access, it helps to increase online shopping in LatAm in the later stages of digital inclusion, in Africa, mobile devices and digital. remittances are the foundation of banking access and financial inclusion for the continent's vast population of more than one billion people.
Pipefy, a powerful SaaS low-code platform for workflow management founded in 2015 in Latin America and operating in more than 200 countries worldwide, is present in the Africa region with EBANX as payment partner. "Extending our solutions to African countries speaks directly to EBANX's mission of creating access, and having Pipefy as a merchant makes this moment even more special for us, expanding solutions and services in regions full of opportunity," said Bellizia.
EBANX solutions in the Africa region will consider popular local payment methods including:
In South Africa:
Instant EFT from OZOW allows online buyers to access online banking to make an electronic funds transfer (EFT) that is confirmed instantly. EFT is the second most popular online payment method in South Africa today.
In Kenya:
M-Pesa, a mobile banking service that allows users to store and transfer money, as well as pay for online shopping via their mobile phone. M-Pesa was introduced in Kenya as an alternative way for the country's population to access financial services.
In Nigeria:
USSD, a session-based protocol that goes over the GSM signaling channel to query for information and trigger services. It enables customers to pay for their e-commerce.
Bank transfers, which enable customers to pay for online purchases quickly and easily without the need for a credit or debit card. They are one of Nigeria's leading alternative payment methods because they are very secure and reliable.
*****
EBANX also announced a set of new payment solutions during its annual Latin America Summit which is being held for the first time this week in Mexico City:

EBANX has launched several new features for its cloud-based payment platform, including a new automated payment solution for high-value transactions targeting the USD 11 billion B2B SaaS/Cloud market in Latin America. [ link to news release ]

EBANX has enhanced its payment platform to allow it to process multiple cross-border payments in a single transaction that will be used by some of its global customers, as well as a new ability to process micropayments. [ link to news release ]
ABOUT EBANX EBANX is the leading payment platform connecting global companies with customers from one of the fastest growing digital markets in the world. The company was founded in 2012 in Brazil with the task of giving people access to buy in international digital commerce. With powerful proprietary technology and infrastructure, combined with in-depth knowledge of the markets in which it operates, EBANX enables global businesses to connect to hundreds of payment methods in different countries in Latin America and Africa. EBANX goes beyond payments, increases sales and promotes seamless buying experiences for businesses and customers. For more information, please visit:
###
Media Contacts:
United States:

Chris Knight

US PR director for EBANX

[email protected]

(415) 786-9226 c. (on WhatsApp)
Brazil:

Mariana Skroch Domakoski

PR and communication at EBANX

[email protected]

+55 (41) 9957-9782 (on WhatsApp)
Share the article on social media or email: