Kenny Schachter's new NFT game is an Art-World Battle Royale that pits traditional artists against digital creators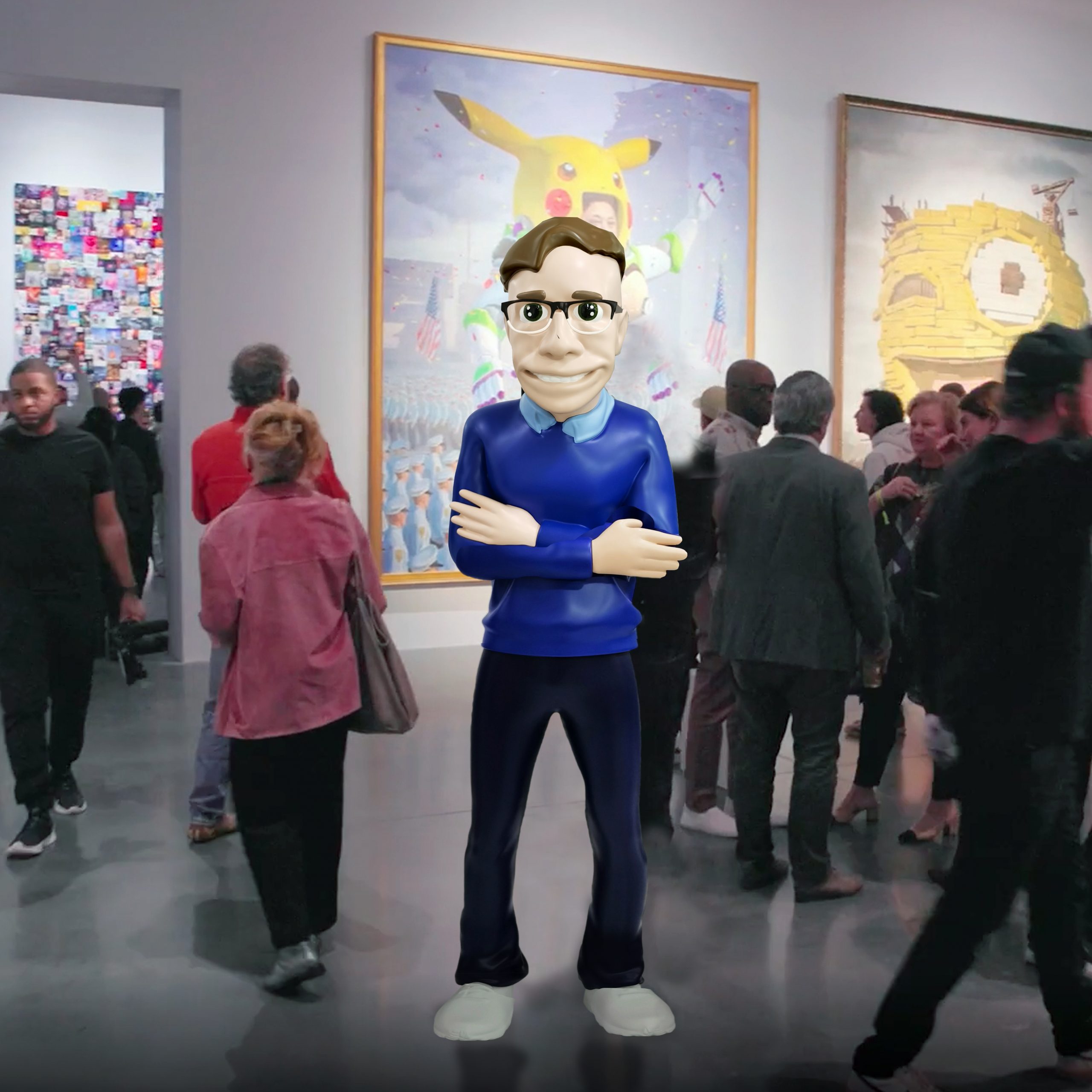 NFTs

'Pop Principle' will be released on 18 May on Daata.
Kenny Schachter has had, shall we say, one challenging relation to the art establishment. An artist (and Artnet News columnist) operating on the fringes of new media, Schachter has long eschewed gallery models and market winds, instead embracing new technologies in ways that have rubbed against the traditional art crowd.
Example: Schachter's involvement in NFTs, which began in 2019. "Nothing prepared me for the level of conservatism and backwardness in the art world," he told Artnet News about the response to the blockchain ventures. – It has been very disturbing.
Schachter's new NFT project will not improve these relations – although it is clever work. Made in collaboration with digital gallery Daata, The pop principle is a gamified project that pits two different camps against each other. In one corner is a group of traditional art actors and in the other the vanguard of digital art. And how is the winner decided? By the number of coins, of course.
On May 18, Schachter will release a series of eight open-edition NFTs, each featuring a player designed in three dimensions. They include artists Yayoi Kusama and David Hockney, and mega-retailer Larry Gagosian on the team of old school students, as well as digital stars Beeple, Osinachi and Refik Anadol who make up the new media group. Curator Hans Ulrich Obrist is included as a "neutral player" because he is Swiss.
Tokens will drop at Schachter's solo show at NFT Gallery in New York, and sold on Daata up to and including June 17.
Four rounds with The pop principle will be played, and the most marked character in each round will be named the winner ("Pop" in the project's title refers as much to pop art as popularity). The collector who holds the largest number of the winner's NFTs will further be awarded a physical sculpture of the character, while other holders will be able to burn their tokens to redeem prizes.
Once the rounds are completed, the four winning characters will face off in an ultimate showdown.
That a battle royale, even a wonderfully imagined one, would race between the traditional and digital art worlds is "young and stupid," Schachter admitted, "but that's really how it is."
"It should just be a happy little universe of people making art with similar goals and purposes," he continued, "but I made a whole new set of enemies by being such a fan of NFTs."
Schachter's vocal support and near evangelism for NFTs – coining the term "NFT-ism," among other the things– is not completely misplaced. As a contemporary artist working in media from digital art to video, blockchain has made sense as "a way to codify work into a digital certificate of authenticity, to be able to buy and sell those works," he said.
IN The pop principleis this tool folded into the content of the art itself. For Schachter, the participatory, gamified element of the project, which utilizes the format of open editions, offers a departure from existing static art forms.
"Art relates to social, political, economic and technological aspects of our culture and society," he said. "In that regard, it's very interesting to have a project where there's a participatory nature, and it's really commenting on a new form of art that's transformative and dynamic."
The release of The pop principle is just the tip of a multi-chapter project. Schachter currently has 50 to 75 other characters in development, with hopes of expanding the cast into the hundreds. The goal is for them to populate an actual video game at a later stage, where traditional and digital artists can engage in non-lethal combat, possibly by shooting paintballs at each other.
(Schachter plans to "develop" this game, plus his other blockchain projects such as Open bookat his upcoming solo show at the Francisco Carolinum Linz in Austria.)
If this all sounds funny, even a little silly, that's because it is: Schachter is no stranger to humor of the absurdist flavor, calling it "a release valve for life." So while the divide between the traditional and new media art worlds may never heal, that doesn't mean an artist can't make art, or light, in the meantime.
No points for guessing which side Schachter leans in on The pop principle. "It is an NFT project," he said.
"For me, NFTs are just a way to find people who would look at my work and potentially collect it when the art world was just a series of doors being shut in my face," he added. "It's just a great way for artists to empower themselves to find other ways."
More trending stories:
Smithsonian National Museum of African Art director has resigned after less than two years, citing 'opposition and backlash'
'We're not all Ikea-loving minimalists': Historian and author Michael Diaz-Griffith on the resurgence of young antique collectors
First auction of late billionaire Heidi Horten's controversial jewelry turns out to be wildly successful, raising $156 million
An Airbnb host got more than they bargained for with a guest's offbeat art swap—and the mystery has gone viral on TikTok
Not patriarchal art history, but art 'Herstory': Judy Chicago on why she dedicated her new show to 80 women artists who inspired her
An artist asked ChatGPT How to make a popular Memecoin. The result is "TurboToad" and people are betting millions of dollars on it
An elderly man spray-painted a Miriam Cahn painting at a Paris museum after right-wing efforts to censor it failed
The Netflix series "Transatlantic" dramatizes the effort to evacuate artists from France during World War II. Here's what actually happened in real life
Follow Artnet News on Facebook:

Do you want to be at the forefront of the art world? Subscribe to our newsletter to get the latest news, eye-opening interviews and sharp critiques that drive the conversation forward.