Crypto influencers hit by yet another FTX lawsuit
A new class action lawsuit alleges that crypto influencers, including Ben Armstrong, also known as BitBoy, promoted FTX without disclosing compensation.
The lawsuit also alleges that the defendants replaced YouTube clips promoting former FTX CEO Sam Bankman-Fried with videos apologizing for their endorsement of both the exchange and Bankman-Fried.
Crypto influencers hide behind language, says lawyer
Adam Moskowitz will represent US and non-US plaintiffs in a class action lawsuit against Armstrong, Erika Kullbergm and Kevin Paffrath.
The lawsuit adds to a growing list of cases against celebrities who promoted FTX. Some influencers made money from trades on FTX by customers they referred.
Crypto podcaster Anthony Pompliano promoted the exchange in 2022, while Shark Tank investor Kevin O'Leary reportedly received $15 million to promote the now-defunct exchange.
In the US, the Securities and Exchange Commission has worn-out rules that force securities promoters to disclose conflicts of interest. They must disclose the nature, amount and source of the remuneration.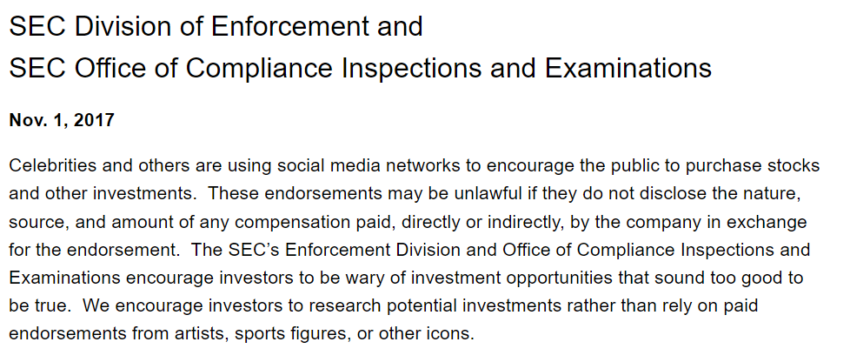 The SEC charged TV celebrity Kim Kardashian $1.26 million in 2022 for illegally promoting a crypto asset.
In the United States, influencers often try to avoid disclosure by arguing that the assets they market are not securities, said a partner at the law firm Lowenstein Sandler LLP.
The upcoming EU Markets-in-Crypto-Assets bill will charge promoters who do not disclose compensation with market manipulation.
While it is unclear whether BitBoy and other influencers' endorsement contracts are still in effect, several FTX promotional contracts have either been modified or terminated since the exchange's bankruptcy.
Miami-Dade County removed the company's logo from the Miami Heat basketball arena shortly after FTX filed for bankruptcy in November 2022. Under its contract with the county, FTX must pay three years of fees, which Coindesk estimated at $16.5 million.
Formula 1 team Mercedes removed FTX's logo from its cars and drivers shortly after filing for bankruptcy. Major League Baseball umpires will not wear an FTX patch on their uniforms for the 2023 season.
Alameda CEO Compensation pales in comparison to SBF
In other FTX news, a recent FTX case revealed that the former CEO of FTX affiliate Alameda Research Caroline Ellison received $6 million in payments and loans primarily from the firm she oversaw. Alameda Research was a market maker for FTX.
According to the filing, her compensation paled in comparison to that of her male counterparts in FTX's group of companies.
Former FTX CEO Sam Bankman-Fried received $2.2 billion from Alameda, while the company's former chief engineering officer Nishad Singh received $587 million. Former CTO Gary Wang was reportedly paid $246 million.

Ellison, Wang and Singh had pleaded guilty to charges related to an alleged fraud perpetrated by Sam Bankman-Fried before FTX filed for bankruptcy. Bankman-Fried has pleaded not guilty to twelve counts of fraud, money laundering and campaign finance violations. He is currently out on a recognizance bond secured by his parents' home.
For Be[In]Crypto's latest Bitcoin (BTC) analysis, click here.
Disclaimer
BeInCrypto has reached out to the company or person involved in the story for an official statement on the latest development, but has yet to hear back.