Buying Bitcoin on eToro: steps and what to consider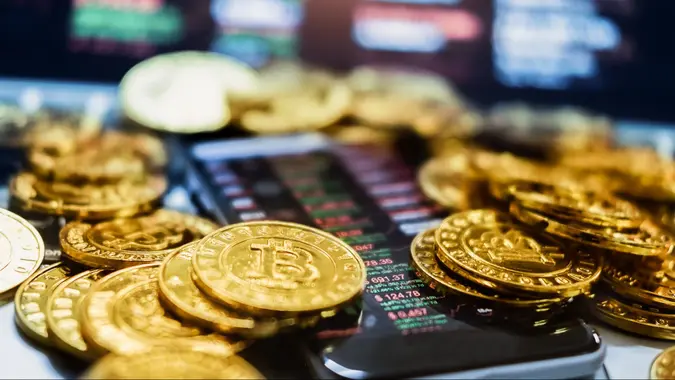 Jirapong Manustrong/Getty Images/iStockphoto
Bitcoin is the first of its kind, as well as the most popular, best-known and largest cryptocurrency based on market capitalization. It is also the crypto most often accepted by businesses as a form of payment.
Read: 5 Things You Must Do When Your Savings Hit $50,000
If you're thinking about investing in cryptocurrency while prices are down, bitcoin may very well be your best—and safest—choice.
Many investors choose to use a crypto exchange like eToro to buy bitcoin and other cryptocurrencies. Buying bitcoin on eToro is easy with just a few steps.
How to buy Bitcoin on eToro
If you are wondering how to buy bitcoin on eToro, first you need to create an account online. Here are the steps to start your account, fund it and buy bitcoin.
Upload a photo ID and proof of your address and wait for confirmation via email.
Fund your account via PayPal, an online bank, a traditional bank account, or a credit or debit card. You need at least $10 deposited to start trading.
Search for bitcoin through the eToro dashboard.
Enter the amount of bitcoin you want to buy in US dollars or in BTC value.
When everything looks good, click "Trade" to make the purchase.
What is eToro?
Before we go any further, let's answer the question "What is eToro?" eToro is a popular crypto trading platform that also allows users to buy and sell stocks and ETFs.
Hailed as a top platform for beginners, eToro even offers a "demo account" that allows new investors to practice with a virtual eToro account representing $100,000. You can buy stocks, ETFs and cryptocurrencies and see how they perform over time without risk money.
You can also copy the portfolios of top traders around the world to learn from the best. And once you get the hang of how trading works, you can copy the actions of top investors using your own money using eToro's CopyTrader feature.
When you reach certain investment levels of $5,000 in realized equity and above, you gain access to the eToro Club. You'll receive enhanced educational materials, access to live webinars, subscriptions to top ecommerce publications, and more. If you have more than $25,000 in realized equity, you will receive a dedicated account manager to help you with your eToro investments.
How do I buy on eToro?
The process for buying bitcoin and other cryptocurrencies on eToro varies slightly depending on how you finance the purchase.
How to buy on eToro with a debit or credit card
When you buy bitcoin on eToro with your credit or debit card, you will click "Deposit Funds" on the website or mobile app. Select "debit/credit card" and enter the information, including the CVV code found on the back of the card.
You pay no additional fees when you use a debit or credit card for your purchase. Funds are also available instantly, which is a huge advantage of using a credit or debit card to fund your eToro account.
If you use a debit card, however, you won't be able to buy bitcoin worth more than the cash you have in your bank account linked to your debit card. If you use a prepaid card, you will not be able to spend more than the funds available on the card.
If you use a credit card to fund your eToro account and crypto purchases, remember that you may be subject to interest charges if you do not pay the full balance when it is due. When crypto starts to rise in price, high finance charges on your credit card can easily reduce the return on your investment.
How to buy on eToro using PayPal
With more than 192 million active users, PayPal is the most widely used digital payment platform in the world. If you don't already have a PayPal account, it's easy to set one up and link it to a bank account, credit or debit card to start funding your eToro account.
To use PayPal to buy bitcoin on eToro, simply click "Deposit Funds" and select PayPal as your payment method. You will be asked to link your PayPal account to your eToro account.
As long as you have selected PayPal as your preferred payment method, you can buy bitcoin and other cryptocurrencies on eToro using PayPal.
Remember that you will log into your PayPal account and select your preferred payment method. You can use PayPal account funds, PayPal credit, or an associated bank account or credit or debit card. If you choose your PayPal account as your primary payment method, you can choose a backup method, such as a debit or credit card. If you don't have money in your PayPal account, the service will default to your backup method.
If you do not have funds available via the backup method, your purchase may be declined.
How to buy on eToro with a bank account
If you prefer not to use a debit card, credit card or PayPal, you can fund your eToro account through a physical bank account. But the process can take four to seven business days, which can be less than ideal if you're trying to buy while bitcoin has reached a low price.
To deposit funds into your eToro account through your bank, click "Deposit Funds." Select the currency and amount, then select "Bank transfer" as the payment method. Bank transfer details will be shared on screen and also emailed to you. Log in to your online banking service, use the bank's app or visit a branch to transfer the funds. Include the transaction ID and your eToro username as the payment reference.
Next, open a ticket in the eToro Customer Service Center to share a screenshot of the payment confirmation. Alternatively, you can have the bank provide a copy of the SWIFT document, which you can scan and upload.
Once the funds are cleared, you can buy bitcoin or any other cryptocurrency on eToro by finding the crypto you want to buy and entering the purchase amount.
Is eToro good for Bitcoin?
You can buy bitcoin on popular peer-to-peer digital payment platforms such as Venmo and PayPal. However, when you buy through these platforms and store bitcoin in your account, you rely on the platform's security systems to protect your investment.
On the other hand, if you use an online crypto exchange like eToro to buy bitcoin, you can transfer your investment to a cold wallet for offline storage and greater security. If you are investing large amounts of money, this may be your best choice. Plus, it's easy to finance your purchase via a bank account, PayPal, or credit or debit card.
Alternatives to eToro
If you choose not to use eToro to buy bitcoin, you have many other options. Some popular eToro options for investments include:
These apps all allow trading of cryptos, stocks and ETFs. Stockpile and Webull both excel in research tools and education.
If you only want to buy and sell bitcoin and other cryptocurrencies, without trading stocks or ETFs, you may want to consider one of GOBankingRates' best crypto exchanges:
Should You Invest in Bitcoin Right Now?
Investing in a bear market, while prices are low, can give you a better chance of higher returns when considering the stock market. The same can be true for cryptocurrencies like bitcoin, which means now could be the best time to invest.
In early November 2022, bitcoin fell 77% from its all-time high in November 2021. In 2018, bitcoin lost 80% of its value, but eventually recovered to reach all-time highs.
Some experts believe that the current crypto winter will similarly end and that crypto prices will rise again. Ric Edelman, founder of the Digital Assets Council of Financial Professionals and former independent financial advisor, previously told GOBankingRates: "For long-term investors, price drops represent a buying opportunity."
He pointed out that blockchain technology, which makes crypto trading and NFTs possible, will not disappear just because of today's price fluctuations. "Just as the bursting of the Dot-Com bubble did not lead to the end of the Internet, today's crypto winter will not translate to the end of Internet 3.0."
With this in mind, you may be considering buying bitcoin now that it's at the lowest price we've seen in a while. If you do, you'll probably want to use a crypto exchange like eToro for security and convenience.
Final Take
If you are ready to buy bitcoin and other cryptocurrencies, eToro is one of the best cryptocurrency apps for investors. You can create an account and buy bitcoin in just five easy steps.
Remember that cryptocurrency is a highly volatile investment and you should never invest more than you are prepared to lose.
The information is accurate as of November 21, 2022.
Our in-house research team and on-site financial experts work together to create content that is accurate, unbiased and up-to-date. We fact-check every single statistic, quote and fact using reliable primary sources to ensure the information we provide is correct. You can learn more about GOBankingRates' processes and standards in our editorial guidelines.