Blockchain Sparks a Revolution in Education Systems: HashCash CEO Raj Chowdhury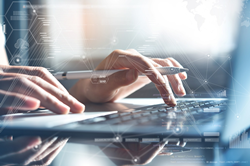 The core principles of blockchain maintain a system that offers optimized cost cuts while eliminating biases or intermediaries. It is therefore logical that the technology will be a game-changer for the entire education sector.

PALO ALTO, California (PRWEB)
July 13, 2022
With features that maintain trust, openness and immutability, blockchain has jumped into the mainstream as one of the most disruptive technologies of today. HashCash Consultant's CEO Raj Chowdhury claims that the basic architecture behind crypto can be used to drive other innovations as well, such as transforming the current education system.
The global COVID-19 pandemic has severely affected educational institutions around the world, and has reduced their ability to impart knowledge and valuable learning. While the closures became a boon for online education platforms, teachers have recognized the limitations of teaching online. The challenges include delays in the grading process and proper documentation of student records, in addition to preventing any opportunities for deviations.
HashCash CEO, also a well-known blockchain pioneer, highlights the benefits of blockchain integration in the education sector, saying: "Decentralized blockchain built on a P2P distributed network architecture facilitates documentation of student records on a global scale. The technology enhances digital education printing with higher security, robustness and flexibility. "
In terms of scope, blockchain will be beneficial for both students and examiners and ensure data integrity and visibility. The process also helps significantly reduce costs, eliminating the need for degree printing, verification or storage. Blockchain-driven smart contracts can also be used to transfer academic records, enabling online learning platforms and institutes to issue certificates upon completion of the syllabus.
"The core of the blockchain maintains a system that offers optimized cost cuts while eliminating biases or intermediaries. It is therefore logical that the technology will be a game-changer for the entire education sector," concluded Chowdhury, who had previously expressed support for blockchain use. in patent claims, and the growing need for blockchain analysis.
Led by Chowdhury, HashCash Consultants has been a global frontrunner in blockchain development, winning top awards and operating in more than 26 countries on 6 continents. The company brings together banking and the emerging fintech sector with groundbreaking white-label blockchain solutions. HashCash's crypto payment gateway is becoming increasingly prominent among US merchants.
The explosive growth of the blockchain industry is evident from the potential in both innovation and improvement of existing systems. Businesses around the world undergoing digital transformation are seeking to implement blockchain to take advantage of their existing business.
About Raj Chowdhury:

Raj Chowdhury is the CEO of HashCash Consultants and Paybito. Raj was a pioneer in the first interbank trading financing and remittance implementation of Blockchain technology between two of the largest global banks. Raj is an eminent voice in the Blockchain and Cryptocurrency area and actively engages with decision makers in this area. He is a contributor to Economic Times, Business World, CNNMoney and advises industry leaders in the introduction of Blockchain. He is a member of Asha Silicon Valley, a non-profit organization committed to educating children in emerging countries. Author of the book 'The Dark Secret of the Silicon Valley', Raj is an investor in blockchain and cryptocurrency companies and an active member of the philanthropic community.
Share the article on social media or email: