Blockchain API provider GetBlock improves user account functionality, increases frequency limits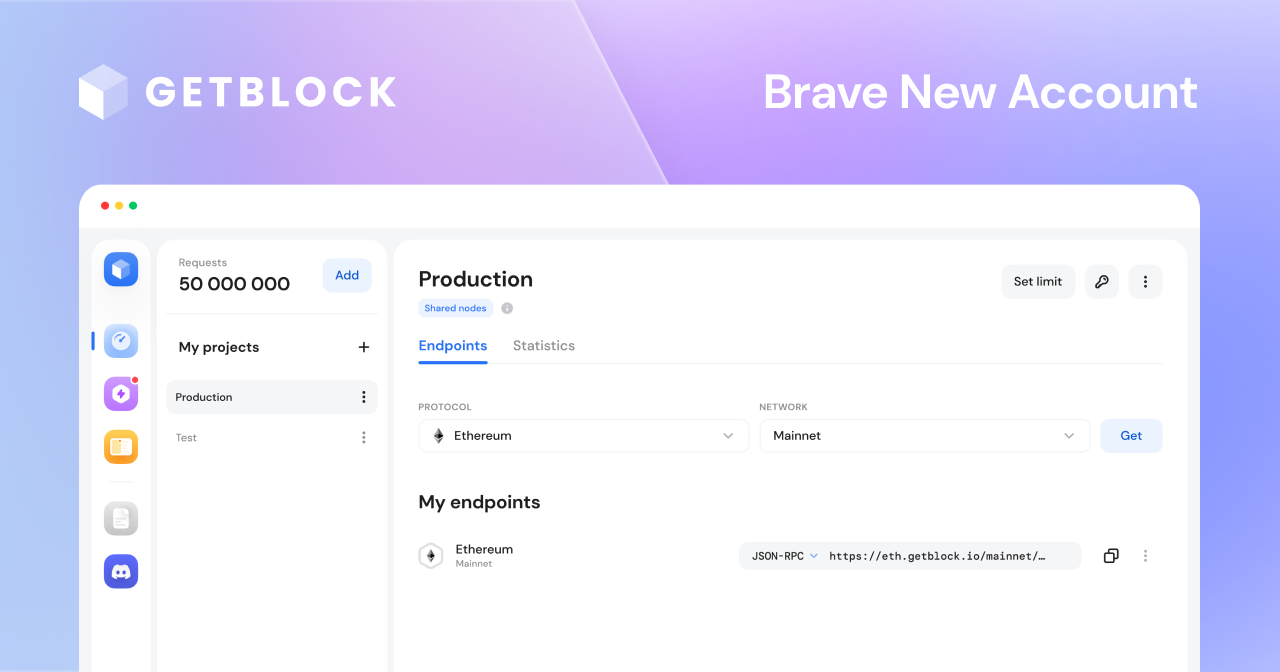 Tbilisi, Georgia, November 26, 2022, ZEXPRWIRE, Blockchain-as-a-Service heavyweight GetBlock is giving the account a boost, introducing new pricing and doubling rate limits for shared nodes. With improved account functionality, setting up a blockchain API endpoint becomes intuitive even for Web3 newcomers.
GetBlock introduces new user account: What changes for users?
According to the official statement of the team, GetBlock, a Tier-1 provider of node APIs for all mainstream blockchains, is implementing a major upgrade of its account functionality. This upgrade is a very important achievement for GetBlock in Q4, 2022 as it radically streamlines the user experience for its customers.
With the new account design, users can get their unique API endpoint addresses in (literally!) three clicks. Once a GetBlock user is logged in, he should just select the blockchain he/she needs, the type of network (mainnet/testnet) and click the "Get" button. That's it: a user can instantly connect their dApps to shared nodes on 50+ blockchains.
Users of dedicated nodes (premium offering by GetBlock: clients do not need to share resources with peers) can now customize their endpoints through a node configurator.
It should be noted that users must obtain separate API keys for dedicated and shared nodes even when using the same blockchain; Polygon shared nodes cannot be accessed with API keys from Polygon dedicated nodes. Meanwhile, Polygon dedicated nodes API key can be used to connect to BNB Chain dedicated nodes.
In a Lego-like fashion, a user selects the blockchain required for his/her dApp, selects tariff plan, type of network, mode (full node or archive node) and immediately receives an invoice in an automated manner without having to wait for a response from the customer support manager.
Also, clients of the blockchain API provider GetBlock now have all statistics of their API endpoint usage at their fingertips: sensitive metrics are visualized in a user-friendly dashboard.
GetBlock increases speed limits: Why is this important?
GetBlock also doubles the speed limits for all shared nodes: instead of 30 requests per second (RPS), this crucial metric is now set to 60 RPS. This upgrade allows any dApp to dramatically increase throughput at no additional cost. In particular, this is crucial for trading services: exchanges, bots, DeFis and so on.
With new speed limits, GetBlock now offers one of the most powerful shared node APIs in the segment, enabling early-stage dApps to scale in resource-efficient ways.
GetBlock also updated the pricing scheme. The service follows the "Pay Per Use" model in "Launch", "Build" and "Scale" plans: requests do not expire. Thus, all users only pay for the requests they actually use. Each package covers all shared nodes available on GetBlock: for just $29, users get a total of 5 million requests to 50+ blockchains.

Within each 'Shared Nodes' package, clients can make user-purchased requests for an unlimited number of endpoints and projects across different blockchains.
The 'Unlimited' plan allows you to send an infinite number of requests to all GetBlock's shared nodes for a month.
As a result, these three innovations – improved account design and functionality, advanced pricing system and increased rate limits – are poised to make the user experience of GetBlock customers more seamless and cost-effective than ever before.
About GetBlock
Blockchain API provider GetBlock was launched in 2019 and is a top-tier Web3 infrastructure provider. Its stack of shared and dedicated nodes API endpoints features 50+ blockchains including all major blockchains (Bitcoin, Ethereum, XRP Ledger), flagship second-layer networks Optimism and Arbitrum, new generation cross-network platforms Polkadot and Cosmos, and so on.
With GetBlock's API endpoints, dApps developers no longer need to run blockchain nodes on their own. GetBlock also develops node clusters for high-performance applications and builds customizable blockchain explorers from scratch.
Media contacts
Consult: Business Development Queen
Company name: GetBlock
Name: Maria key
Email: [email protected]
Website: https://getblock.io/
Twitter: https://twitter.com/getblockio
Disagreement: https://discord.com/invite/T2hbgqfEnv